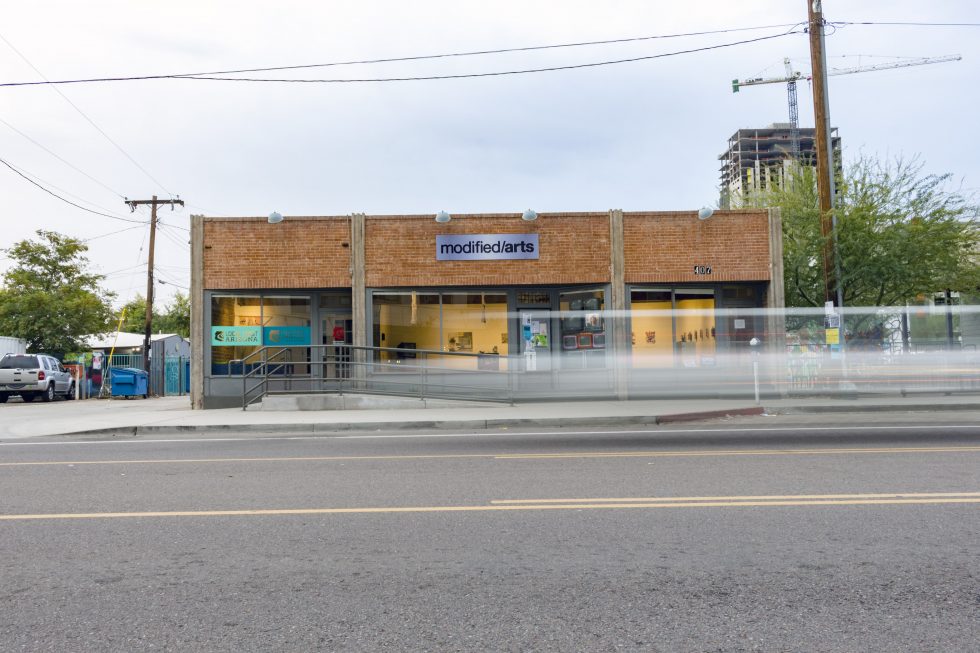 Modified Arts breaks down the traditional art gallery model in its presentation of contemporary art in downtown Phoenix, Arizona. The gallery seeks to exhibit conceptually rigorous work, and strives to connect and cultivate regional, national, and international artists and collectors.
Location
The gallery is located at 407 E Roosevelt St, Phoenix, AZ 85004. Our phone number is 623-396-5148.
Purchase Online
We have partnered with Kooness.com to offer works online.
Exhibitions
Modified Arts showcases stimulating and assertive artwork in an accessible and open environment. Our monthly exhibitions feature regional, national, and international artists of all media and seek to provide a fresh perspective for both new and established collectors. Exhibitions include contemporary painting, sculpture, works on paper, photography, multi-media, and installation.
History
Kimber Lanning opened Modified Arts in 1999 and developed it into a respected gallery and prominently recognized venue for live music and performance.
In 2010, Kim Larkin (Director) and Adam Murray (Associate Director) succeeded Lanning and transitioned the space into a full time contemporary art gallery with select, curated musical performances. Larkin and Murray stepped down in June 2011 to pursue other ventures in the Phoenix arts community.
In 2012, artist/curator Jeff Chabot took over operations at Modified Arts. Chabot brings his experience from Los Angeles where he was a board member of FAR (Foundation for Art Resources) and co-founder of D-Block Projects, an experimental art space in Long Beach, CA. In December 2012, following the departure of Chabot, Lanning resumed directorial duties of the gallery.
The following April, Connor Descheemaker joined as a gallery assistant and co-curator of the space alongside Lanning. Soon thereafter, Local First Arizona, Lanning's small-business coalition, took up residence in the gallery, providing a public office space for the nonprofit, and allowing the gallery to be open six days per week for the first time in its history. In 2018, Modified Arts underwent renovations that established the gallery and the office into separate areas allowing for a more refined and focused experience. In the same year, Descheemaker stepped down from his longtime position as director/curator of the space to pursue other opportunities out of state.
Having joined Modified Arts in October of 2016 as gallery assistant and co-curator, artist/curator Miguel A. Monzón took the position of director and curator for the space alongside artist Merryn Alaka as gallery assistant and co-curator.
In 2020, artist and curator Merryn Alaka, assumed the position of director and curator with artist Katherine Del Rosario as gallery assistant and co-curator.
From Spring of 2022 to present day, curator Melissa Koury has taken on the gallery direction of Modified Arts with a focus on socially conscious curation and community engagement, further amplifying appreciation for artists and their creations that impact our lives.
Submission Policy
Modified Arts accepts submissions on a case-by-case basis. E-mail inquiries to [email protected]. If we are interested in your work, we will contact you for further information.