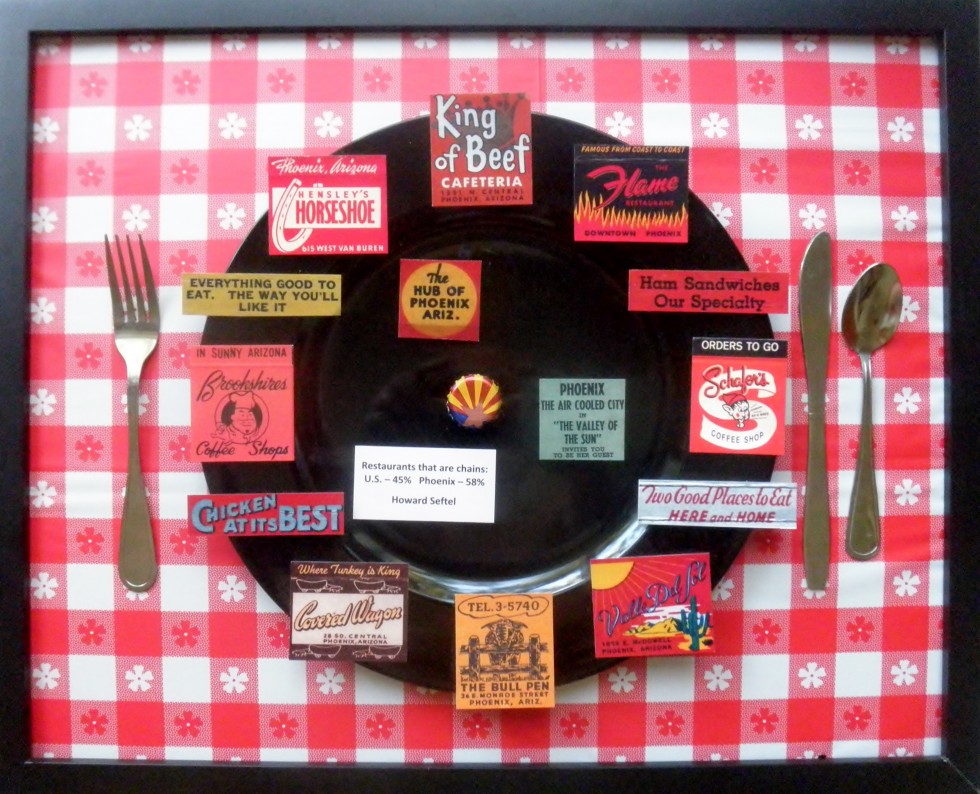 "Phoenix Fifties Fare" Douglas Towne
"Independents' Week"
A group exhibition documenting locally-owned business
June 20-July 12
Opening reception: Third Friday, June 20, 6-9pm
Closing reception: First Friday, July 4, 6-10pm
In honor of the upcoming National Independents' Week, a time to celebrate locally-owned businesses, Modified Arts is proud to present an exhibition of five local artists, each chronicling their own version of Phoenix's transition from small town to the 5th largest city in America.
From the founding of Phoenix, the city has been known as a land of opportunity—a place where people moved to be entrepreneurial, and start a life independent from the established ways of the East coast. This led to a flowering of locally-grown enterprise during the 20th century, including a wealth of construction, much of it done with a uniquely Phoenician sense of modernist design. Taken together, this set up the city as a desert oasis, filled with novel culture for tourists eager to escape the eastern cold.
In the last few decades, that began to change. Due to Phoenix's youth, growth rose to a fever pitch during the 1990s and 2000s, creating a landscape of identical strip malls and tract homes, neglecting identity for speed of development. Along the way, artists were the ones who took greatest notice of the rapidly-decaying vernacular core, including in the founding of Modified Arts along a neglected patch of Roosevelt Street just outside of downtown Phoenix proper.
This exhibition seeks to look back at the places and enterprises which made Phoenix unique from the start, and in turn examine how the city can, and has begun to, rebuild that identity. Jeremy Rowe's archival prints showcase the earliest settlements of this desert city. Arizona Contractor and Community Magazine's industry photos examine boom-time construction as Phoenix suburbanized and the car hit the town. James Angel's paintings view retro signage and roadside attractions as portraits of oft-forgotten Americana. Jon Arvizu's prints present chic visions of midcentury architecture and design. And Douglas Towne's logo-ridden collages offer pointed critiques of corporatized culture.
Taken together, "Independents' Week" offers a critique both thoughtful and whimsical of Phoenix's long march away from local uniqueness, hopefully offering a path back to the entrepreneurial spirit which gave the city its first appeal.
Gallery Hours:
Local First Arizona staff:
Monday-Friday, 9 a.m.-5 p.m.
Gallery staff:
First Friday, 6-10 p.m.
Third Friday, 6-9 p.m.
Saturday, 12-4 p.m.
Or by appointment, scheduled by E-mail.
Modified Arts
407 E. Roosevelt St.
Phoenix, AZ 85004
www.modifiedarts.org