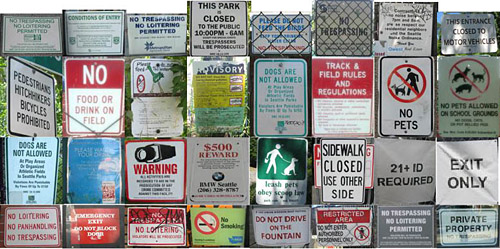 "Don't trespass, don't smoke, do not enter, stay back, keep off, watch out, see something say something, no dogs, no bikes, no skateboards, no eating, no sleeping, no stopping, no standing, cross here, wait here. How limited do you feel in your public spaces?"
Saturday, October 6 at 1pm, join artist Jen Urso on a "Warning Walk" through downtown Phoenix as she helps you draw closer attention to the signs and warnings around you and whether you agree or disagree with them. In conjunction with Urso's multi-disciplinary exhibit "Saying No" at Modified Arts, she will talk about the importance and power of saying "yes" and "no" to the directions, people and influences in your life. Part protest, part empowerment and part social engagement, this walk will open your eyes to the amount of information we digest and comply with every day.
Meet at the Modified Arts gallery at 1pm and bring a small notebook, pen or pencil and any other preparations to walk outdoors for about an hour. Bottled water will be provided.