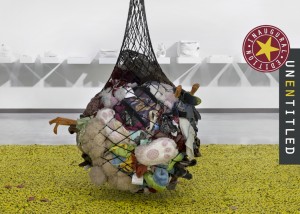 Living by sheer circumstance through events large and small, over time we envelope ourselves with the shroud of our cultural influences.
Thru the filter of my own experience as a white female born in1950's America, I explore themes of assumed entitlements, homogenization, marginalization, and human obsolescence – social divides we've come to accept as normal cultural paradigms.
In questioning this acceptance, I recognize the insignificant – marginalized found objects and disenfranchised people. Driven by a desire to make right, the exhibition reflects my own handwork, but also orchestrates handwork of homeless individuals.
In this inaugural season, and after our experience of last 4 years of a historic administration, this show
presents an examination of our place in history, our sense of lost entitlement and contemplates how we've
become a product of our society's headlines.
The work in this exhibition exploits traditional fiber techniques as conceptual tools for aesthetic, social
communication to examine a society of which we are all a part – as bystanders, participants, victims and
perpetrators
Opening Reception Friday, January 18th, 6-10 pm. Second receptin Friday February 1st, 6-10 pm. Additional gallery hours Saturdays 1-5 pm or by appointment. 602 312 4203. Show hangs through February 10th.