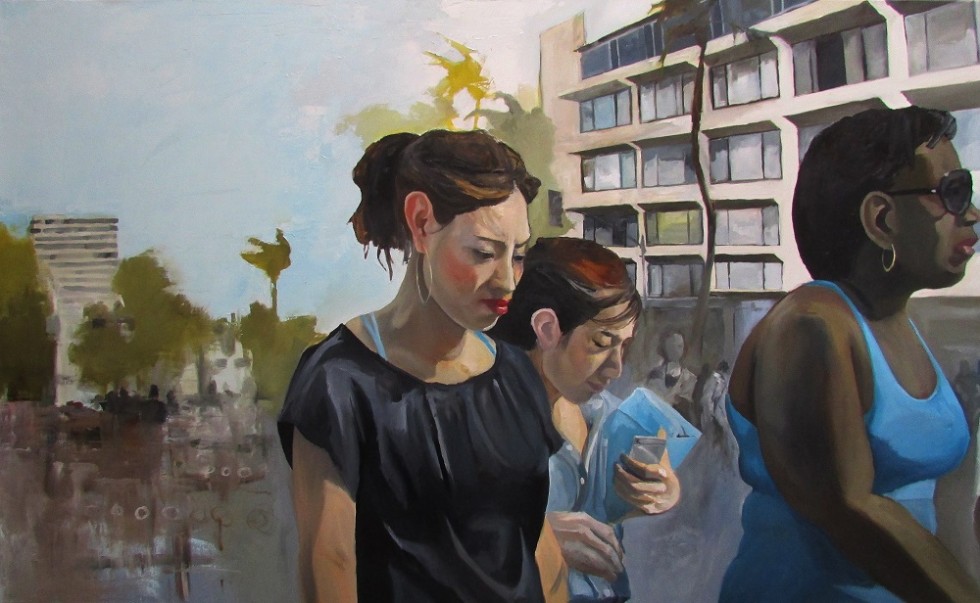 Modified Arts presents:
Jonathan Howard
"Disillusioned Insight"
November 20-December 12, 2015

Opening Reception: Third Friday, November 20, 6-9pm
Closing Reception: First Friday, December 4, 6-10pm
Modified Arts is proud to present its third annual solo exhibition from evocative painter and sketch artist Jonathan Howard, whose deeply layered pieces combine oil, acrylic, sketch, and found objects to produce work which forces the viewer to dig deeply.
Attracting attention for his involvement in the recent "Green and Gray" show at Tempe Center for the Arts, and Howard is only building on his local reputation as a keen observer of the details of urban life, and the forgotten landscapes of the roadside fringe. With this most recent body of work, the artist retains his signature character and color scheme, but expands his subject matter to include more human-centric works. Rather than focusing exclusively on the contexts in which human interactions take place, Howard chooses instead to focus on those interactions themselves. The result is a more thorough and considered look at humanity, and its impact on the landscape.
In a career now spanning nearly two decades, Jonathan Howard has raised his profile through consistent, evolving production. First becoming known through works at Paulina Miller Gallery and Modified Arts in the early 2000s, Howard is represented by Lanning Gallery in Sedona, and has seen his works travel to group exhibitions in Denver at the Abend Gallery and Orange County Center for Contemporary Art in Santa Ana, among others.
Artist Statement:
The urban cityscapes address our temporal existence: they represent the material world and all that is worldly while relating to or being limited by time. The scenes they depict are merely millisecond moments within one's life that often times aren't given much consideration in our haste to get from point A to point B. Yet, within this small passages small glimpses of the true nature of life can be momentarily grasped and then forgotten.
Gallery Hours:
Local First Arizona staff:
Monday-Friday, 9 a.m.-5 p.m.
Gallery staff:
First Friday, 6-10 p.m.
Third Friday, 6-9 p.m.
Saturday, 12-4 p.m.
Or by appointment, scheduled by E-mail.

Modified Arts
407 E. Roosevelt St.
Phoenix, AZ 85004
www.modifiedarts.org