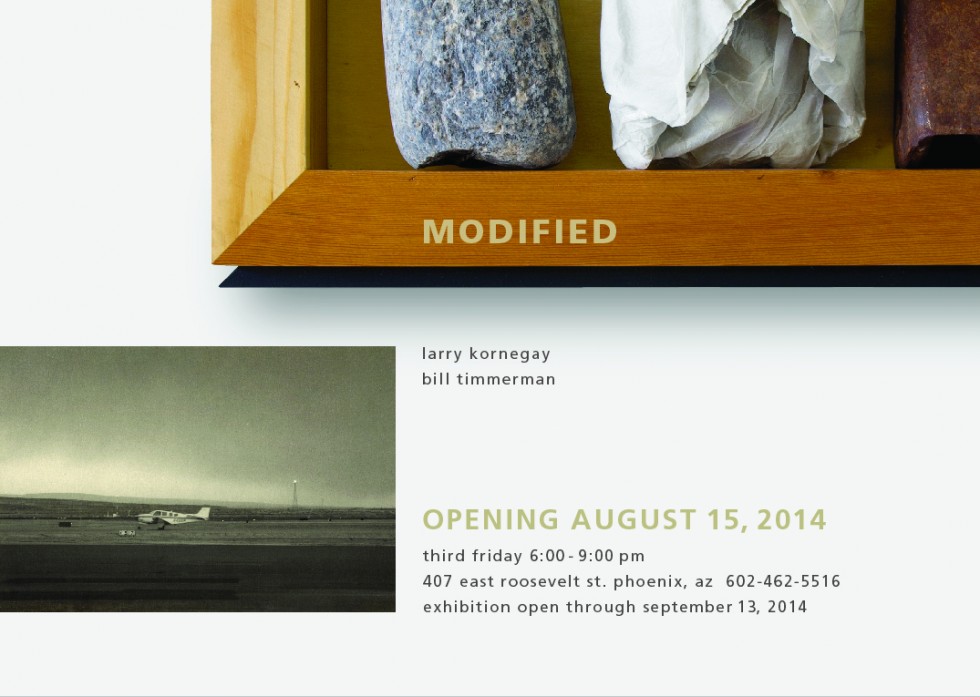 Larry Kornegay & Bill Timmerman
A duo exhibition
August 15-September 13, 2014
Opening reception: Third Friday, August 15, 6-9pm
Closing reception: First Friday, September 5, 6-10pm
Following last August's popular duo exhibition, veteran Phoenix artists Larry Kornegay and Bill Timmerman return to Modified Arts this August for another untitled show. With that exhibition, the two made good on a two-decade-plus personal and professional relationship.
The work of each examines the complex interrelationships of the desert and the built environment, forming simple yet poignant narratives with their respective work. Kornegay's work in concrete melds natural forms and constructed media to create a beautifully blurred boundary between the organic and inorganic. Timmerman's photography, though small in stature, is broad in reach. Each image features little in the way of "action," but in that sparseness, the work provides endless opportunity for examination and introspection.
For this second collaborative show, Kornegay and Timmerman have inspired one another to produce entirely new bodies of work, pushing themselves to new creative places decades into their careers.
Artist Statements:
Larry Kornegay, an Arizona native, has been involved in the valley arts scene for nearly his entire life. His interest in juxtaposing found objects and cast concrete pieces have lead him along a unique artistic path. The found objects are always precious and can range from natural stone and plant material to his families utilitarian tools and toys. What is common to each is an elegance of form and meaning, and hidden in the title of each finished piece you will find the connection and commitment the artist has to his work.
Bill Timmerman, an Arizona resident since the mid eighties, is a commercial photographer that specializes in architectural photography. His personal black & white film work is similar to the commercial in form but incorporates a more psychological aspect. He is interested in how we perceive and are affected by the sign posts of our everyday life. The effect of the horizon, the effect of twilight; what is happening within as we transition through each day. One feels they can step out of their routine for a moment with his work and take stock.
Gallery Hours:
Local First Arizona staff:
Monday-Friday, 9 a.m.-5 p.m.
Gallery staff:
First Friday, 6-10 p.m.
Third Friday, 6-9 p.m.
Saturday, 12-4 p.m.
Or by appointment, scheduled by E-mail.
Modified Arts
407 E. Roosevelt St.
Phoenix, AZ 85004
www.modifiedarts.org