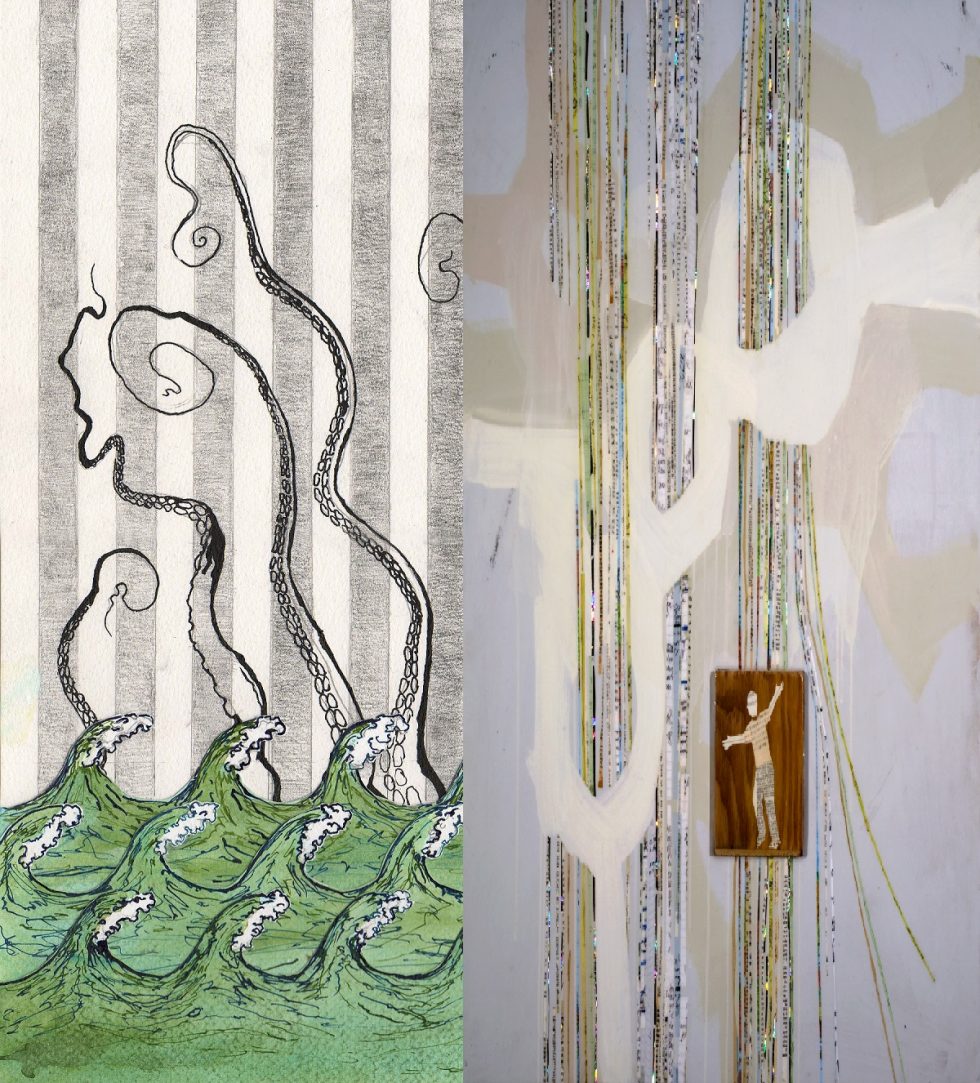 "The Devil Fish's Daughter" Scott Allison / "Tripping" Angela Cazel Jahn
"Patchwork Dreamscapes"
Scott Allison & Angela Cazel Jahn
May 16-June 14
Opening reception: Third Friday, May 16, 6-9pm
Closing Reception: First Friday, June 6, 6-10pm
Following the acclaim of his work at our December group show, Modified Arts is proud to bring back Phoenix mixed media artist and graphic designer, Scott Allison, alongside longtime local mixed media artist Angela Cazel Jahn.
Allison's work for his latest series has evolved to include what he calls "a sense of balance." Where previous pieces brought layers of collage more rapidly on top of one another, these new works provide a more meditative practice. The text and fanciful attitude remains, but blends into a more balanced, open environment and setting in each piece.
Cazel Jahn, a former member of neighbor gallery eye lounge, presents her first downtown show in two years. Her work has most recently been appearing in a rotating array at the Children's Museum of Phoenix. Though her work can inhabit realms ranging from interactive sculpture to community murals, here she presents a set of new and reworked mixed media, wall-based pieces. This playful spirit is present in abundance in all of her work, giving many of the work's characters the appearance that they currently are, or are about to embark, on a journey.
Together, Cazel Jahn and Allison present a show for pause; with so many layers to their work, each artist invites the viewer to stay awhile, and pick apart the surreal scenes they create in each piece of art.
Gallery Hours:
Local First Arizona staff:
Monday-Friday, 9 a.m.-5 p.m.
Gallery staff:
First Friday, 6-10 p.m.
Third Friday, 6-9 p.m.
Saturday, 12-4 p.m.
Or by appointment, scheduled by E-mail.
Modified Arts
407 E. Roosevelt St.
Phoenix, AZ 85004
www.modifiedarts.org