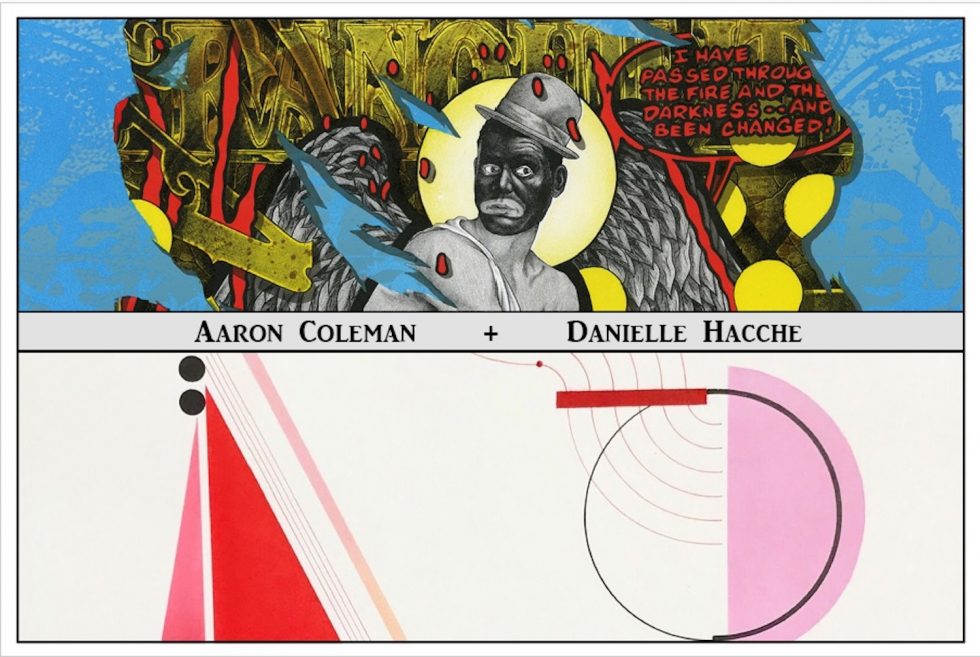 D A T E
May 18 – June 9, 2018
Aaron Coleman + Danielle Hacche
Opening Reception
May 18
Closing Reception
June 1
Modified Arts is proud to present the works of Aaron Coleman, and Danielle Hacche. Earlier in 2018, the two artists presented their work, unwittingly, alongside the work of a white photographer taking on the "identities" of others, utilizing racial caricature, including blackface. After learning of this adjacent work, both artists pulled their exhibitions, and Modified Arts and others made statements denouncing artist and curator, and calling for reparations to be made.
As part of building a more equitable Phoenix arts scene, and providing these vital artists the exhibitions they deserve, the gallery is proud to present a new body of boldly political prints from Tucson-based artist Aaron Coleman, and a mix of new and recontextualized works on paper from Danielle Hacche.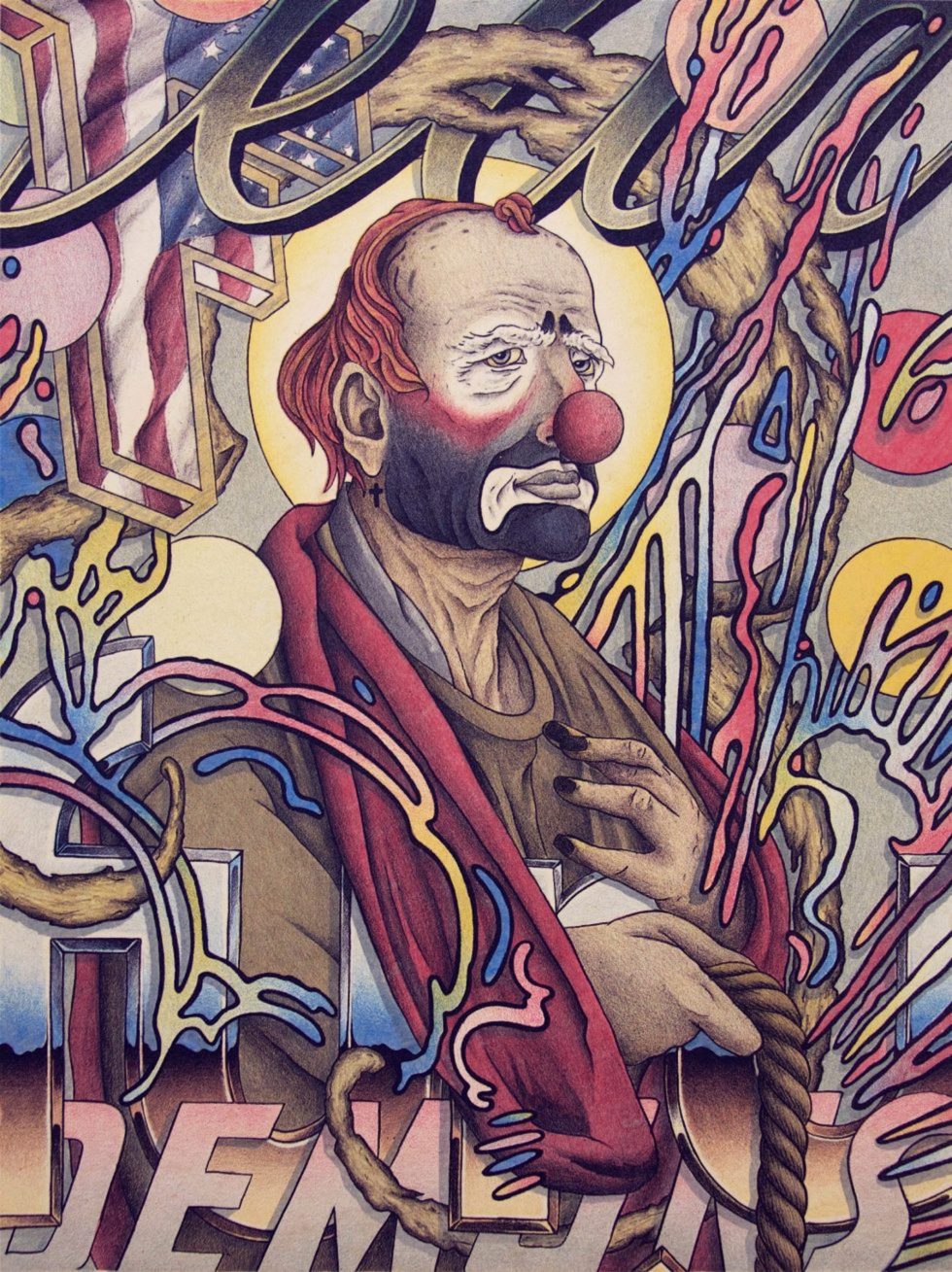 Aaron Coleman – Artist Statement
Most recently my work has evolved into a blanket description of the apocalyptic world in which we live. Police brutality, racial discrimination, religious extremism, persecution of the LGBT communities, economic unrest, global warming, species extinction, habitat loss, holy wars, power trips and ego mania are the extremes my work addresses. Earth is a disaster area, a gigantic crime scene. My work takes on the characteristics of this global chaos. Each piece is an explosive combination of comic book pages, religious iconography and advertising which illustrates a world in ruin and the heroes and villains who occupy it. I appropriate imagery from different eras in history to present an idea of where we've come from and where we might be headed. Utilizing appropriation, I am able to produce imagery not unique to my own imagination, but rather, universal across cultural histories. Typically layering several printmaking techniques in each of my prints, I visually recall the chaos found within the concepts I explore. Social media, news, advances in technology, television, music and movies constantly bombard us. These are the distractions that keep the masses pacified. I utilize color, pattern, texture and appropriated imagery to re-contextualize these distractions. Rips, tears and non-traditional surface treatments such as rust convey a sense of pointlessness to our material world and beg the viewer to consider the larger roll we play as humans. We consume resources and pollute our planet all in an effort to make things bigger and better while ignoring, or even destroying, our relationships with each other and our environment.
Biography
Aaron is an Assistant Professor of Art at the University of Arizona. He received his MFA from Northern Illinois University in 2013 and BFA from Herron School of Art and Design in 2009.
Aaron is a mixed media artist and printmaker creating works focused on political and social issues. He combines imagery from comic books and stained glass windows to raise questions concerning misconstrued belief systems and twisted moral values in our society. Aaron's background in hip-hop culture and street art remains as a major influence in his fine art practices. He has exhibited internationally and received numerous awards, scholarships and fellowships for his work in lithography and mezzotint. Aaron's work can be found in the collections of The University of Colorado, Wichita State University, the Ino-cho Paper Museum in Kochi, Japan, The Yekaterinburg Museum of Art in Yekaterinburg, Russia, the University of Tennessee Knoxville's Ewing Gallery Collection, and The Artist Printmaker and Photographer Research Archiveamong many other public and private collections.
Aaron is a husband, a dog lover and a workaholic.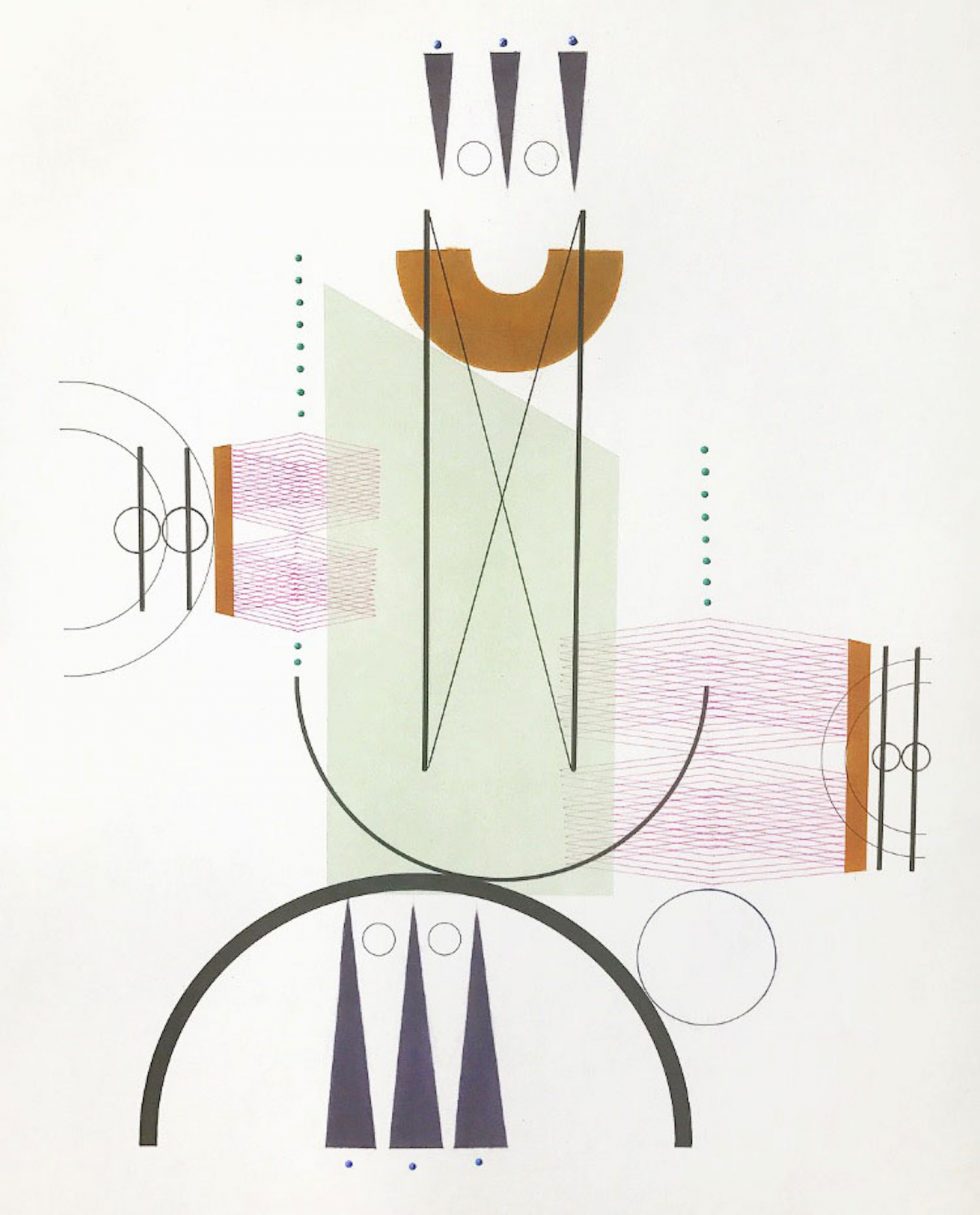 Danielle Hacche – Artist Statement
With her new body of mixed media works on paper, Phoenix based artist Danielle Hacche demonstrates her prowess with handling materials and rendering exquisite paintings with designs and patterns informed by early 20th century Modernist art and architecture, contemporary cultural production, and her sophisticated sense of color aesthetics. Her hard edged line work recalls spiritualistic, theosophical theories of basic geometric shapes which influenced Modernist painters connected with the German Bauhaus like Wassily Kandinsky and Paul Klee. Her work also connects the viewer with window and furniture designs by Charles Rennie Mackintosh and the Glasgow School of Art with certain motifs of architect Frank Lloyd Wright. Both Mackintosh and Wright were influenced by the British Art and Crafts Movement which began in around 1888 and flourished for more than three decades. The Movement emphasized the role of the maker, a return to a simpler way of life, and in fundamental improvements to the way ordinary domestic objects were designed and produced. Workshops were established in large English cities, as well as in more rural regions including Cornwall/Southwest England where Hacche resided before immigrating to the United States and settling in Phoenix.
The works in this exhibition strip away references to representational form and provide abstracted designs which seem familiar whether in an archetypal way or in provoking a longing for less cluttered, more simplistic and peaceful times and places.
Biography
Danielle was born in Poole, Dorset in the Southwest of the United Kingdom. After moving to the United States with her family in 1993, Danielle attended New School for the Arts where she was able to focus on developing her style and craft in high school. After graduation she pursued a foundation degree at Falmouth College of Art and Design back in England, and then went on the The School of the Art Institute of Chicago where she completed her Bachelors of Fine Art. Danielle now resides in Phoenix, AZ.
Gallery Hours:
Local First Arizona staff:
Monday-Friday, 9 a.m.-5 p.m.
Gallery staff:
First Friday, 6-10 p.m.
Third Friday, 6-9 p.m.
Saturday, 12-4 p.m.
Or by appointment, scheduled by E-mail.
Modified Arts
407 E. Roosevelt St.
Phoenix, AZ 85004
www.modifiedarts.org