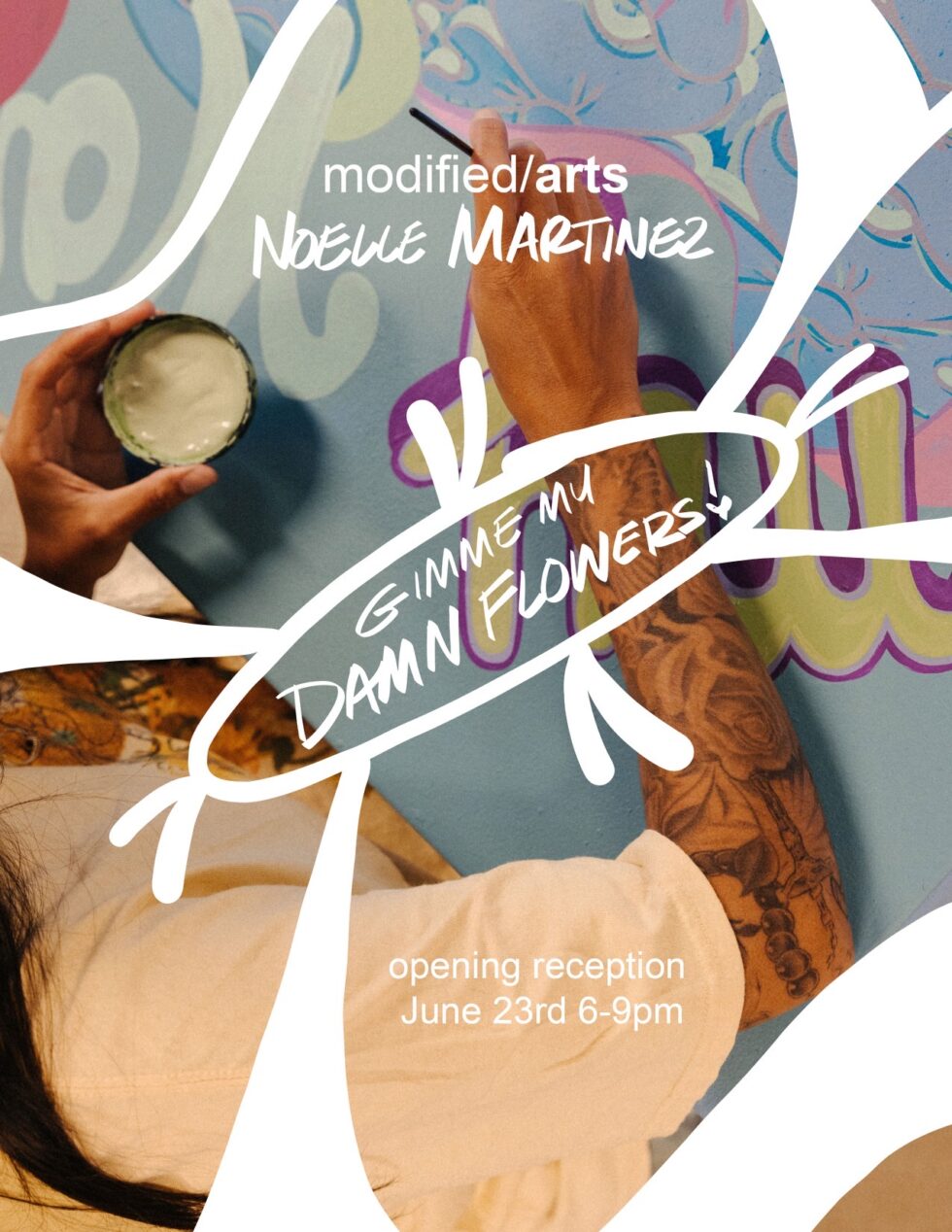 D A T E S
June 23 – July 29
Opening Reception: June 23, 2023. 6 to 9 pm
Closing Reception: July 29, 2023. 6 to 9 pm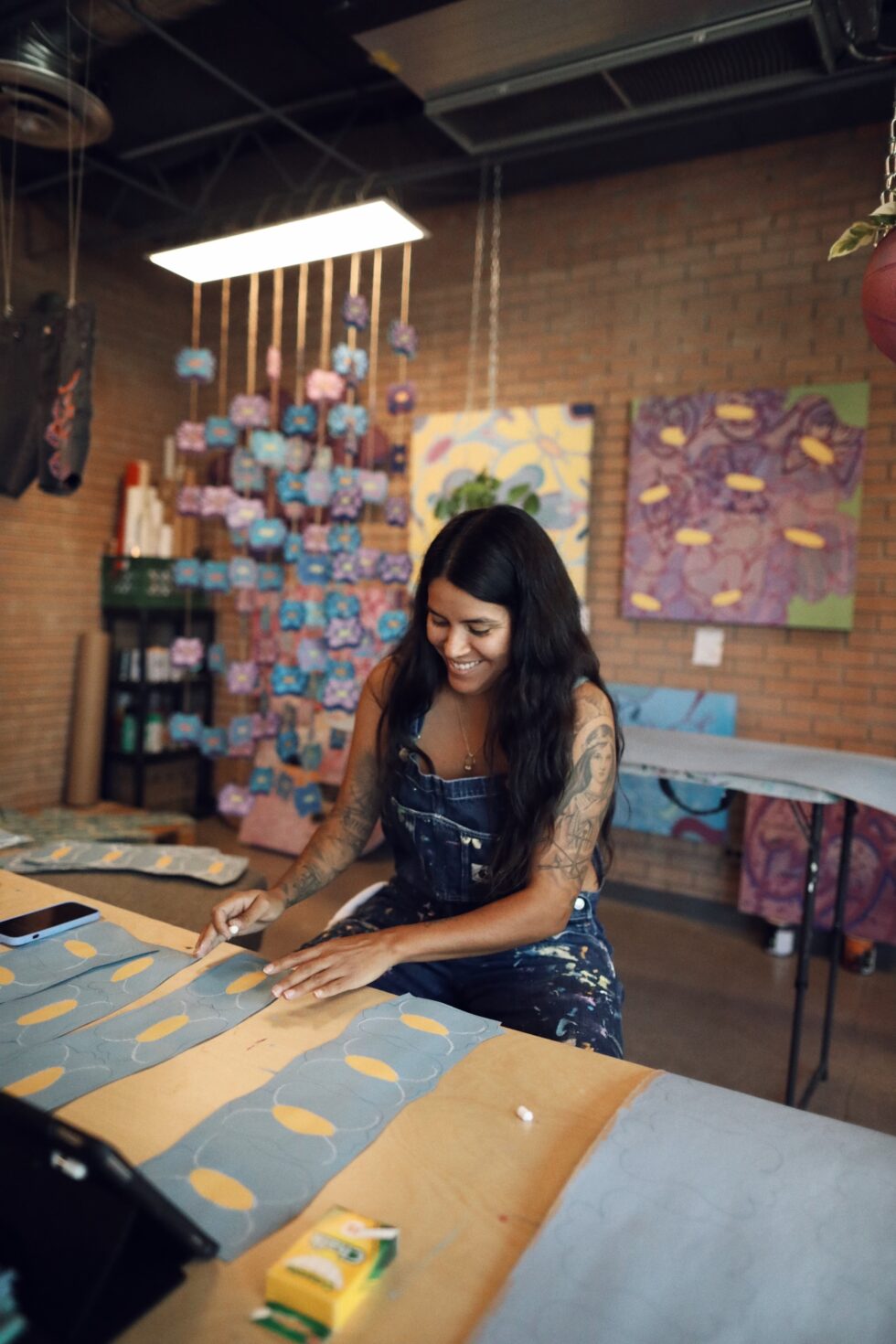 Noelle Martinez (b. 1989, Monterey Park, CA) is a visual artist and colorist local to 24th Street and Monte Vista. She is strongly influenced by the resilient, vibrant nature of her mother, Ofelia Martinez, as well as the contrast of technical and loose styles of her brothers, Christopher "Tusk" Martinez and Paul "Amens" Martinez. Stemming from the musical taste, work ethic, and style of her mother, Noelle began exploring her creative interests. Noelle credits her grandmother, Hortencia Gonzales, for her nickname, Noni Bird, given to her at an early age. Drawing on spare pages in her brothers' black books and sifting through comics for references to paint are the earliest memories of her intuitive desire to participate in art-making. Martinez recalls learning how to draw cartoons, letters, and color schemes through her brothers' work and individual curiosity. In response to her brothers' exploration into graffiti in the early 2000s, she used Birdy as an alias to embark on her own path into the Phoenix art community. Early influences from comics, popular culture, skateboarding, and graffiti began to mold Martinez's style.
The work evolved not only through repetitive practice of line and independent color study, but also through years of shadowing her mentors, Fafi, Kevin Lyons, Hitotzuki, Aaron De La Cruz, and Patrick Martinez, within the United States and abroad. Self sufficiency and emotional expression are two traits that remain from those experiences that now vanguard a standard of activeness and consistency in her artistic practice. This standard birthed the "Busy Birdy" alter ego, symbolizing an effort to maximize time between one's busy schedule and the appreciation of life. Busy Birdy represents the balance between discipline and flow within a practice of structured, yet fluid art-making and the abstract qualities that life can present. "My work is busy", is often stated in reflection of her artistic development.
Through her work and lifestyle, busy became an ethos, leading to the creation of Stay Busy Studio, located at 1117 East Van Buren, on her return to Phoenix in 2019. As the founder and head curator between January and November 2019, Noelle Martinez connected with fellow local artists to provide a space for exhibitions with full creative control. Looking beyond their respective mediums, Martinez encouraged artists to push the boundaries of their practice, creating immersive environments and widening their perspectives. Martinez has been a working artist for thirteen years as a fabricator, studio assistant, and preparator at each destination of her journey. Her resume extends across multiple avenues in the visual arts, ranging from captivating murals, such as the Spread Loving Kindness – Verizon mural and The Cielo Underpass in collaboration with Nat Iosbaker in 2021, to curatorial duties at Stay Busy Studios. In respect to all of the hats she wears, Noelle is proud to be a mother to Bo, who's been a significant piece of her journey since 2016. Bo is the balance between chaos and tranquility, which aids in keeping her grounded mentally and uplifted spiritually. Bo's presence and influence can be seen not only through the work, but also in the tempo, empathy, and happiness that shape their lives together.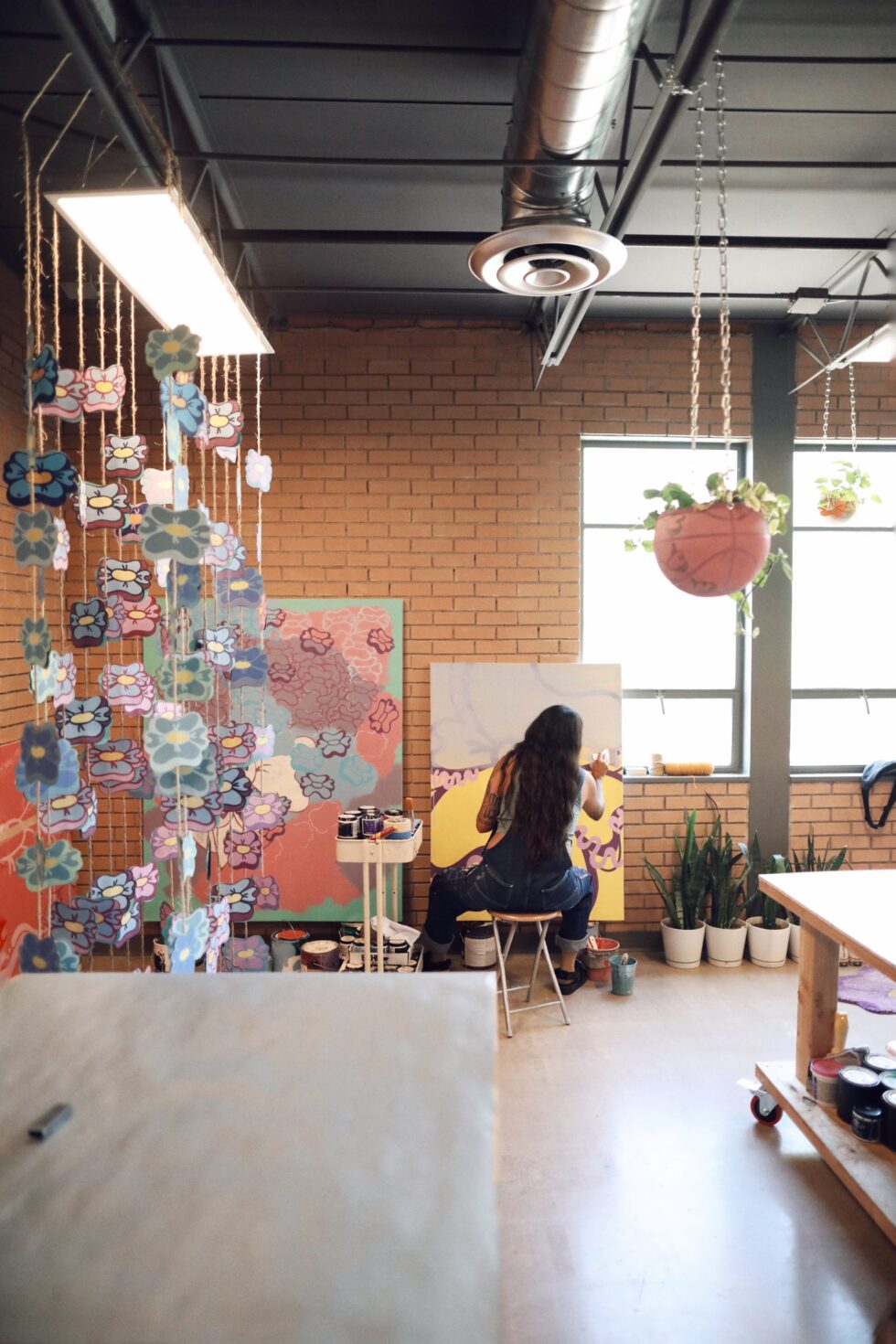 Noelle Martinez is an interdisciplinary artist whose work is rooted in her upbringing in the Valley of the Sun. At the age of thirty-three, Martinez has both informed and substantially influenced the cultural landscape of the local arts community.
Gimme My Damn Flowers! uses painting, assemblage, and installation to catalog the evolution of Martinez's color palette, symbology, and personal narrative. Enthralled by the principles of design from an early age, with an emphasis on letterforms, character building, and patternmaking, Martinez works autobiographically, using her iconic flowers, birds, and letter forms as stand-ins for characters and major life events. The BIRD character is Martinez's approach to personifying life experiences through her artistic practice. BIRD, who acts as a stand-in for the artist, consists of a bow, two big eyes, and a smile. The design elements of BIRD are staples that later evolved into the iconic four petal flower. Representing the hustle to be taken seriously within communities she identifies with, BIRD's bow evolved into a flower during a period of becoming comfortable with her own womanhood. The bow symbolizes an aspect of femininity that is not pronounced on Martinez's exterior, but emphasizes her presence as a woman within communities that are largely populated by men.
Since the pandemic, Martinez is known for her initiative to install work in site specific locations around the city, notably her cardboard flower installations on the 7th Avenue bridge. With the motive to activate dormant exterior spaces, these installations are used to honor sports teams, community members, and provide love to her audience within the city. By doing so, she bridges the gap between gallery presentation and accessible art that can be viewed every day where movement is abundant. In reflection, Martinez realizes that her work exists for Phoenix and herself, as the exhibition pays homage to progression, mentors, and local history.
In addition, Noelle states that she is often "working with what [she] has" available, when in retrospect her mother, Ofelia Martinez, can be credited for the subconscious sustainability within her palette. The paintings, collages, and murals in Gimme My Damn Flowers! reference early 2000s popular culture, fashion, and design history that have been ingrained in Noelle's visual language. Passionately inspired by the original West Side Story visuals, Martinez's color palette envelopes the gallery walls, acting also as collage with paintings and archival work on top of each color. West Side Story is everything for Noelle in terms of the visual explosion of colors, performance, and encapsulating design that translate into her work. The film's wardrobe colors melt into the palette seen throughout the exhibition almost subconsciously, as the film's presence in her childhood left an impression of complete artistic excellence. Martinez applies the same impact that West Side Story has on her journey to the work, creating the same immersive experience for her audience.
At the center of the exhibition sits a new sculptural installation that nods to an adolescence molded by St. Agnes and St. Mary's Catholic Schools. Surrounding the desk are archival pieces, created by Martinez, symbolizing the sprouting of creative energy from her earliest stages. The self portrait, like much of Martinez's work, personifies loved ones and herself within a community that they each inhabit. The use of wood, upholstery, and basketball leather exists within the exhibition as a reference to the range of materials Martinez is capable of using to execute her work. The exhibition intends to display the full scope of Noelle's practice, ranging from her collection of cultural ephemera to the expansive array of influences poured into a space.
Modified Arts is pleased to present Gimme My Damn Flowers! : Noelle Martinez's first retrospective exhibition in Arizona.
– Noelle Martinez
Curation by Noelle Martinez