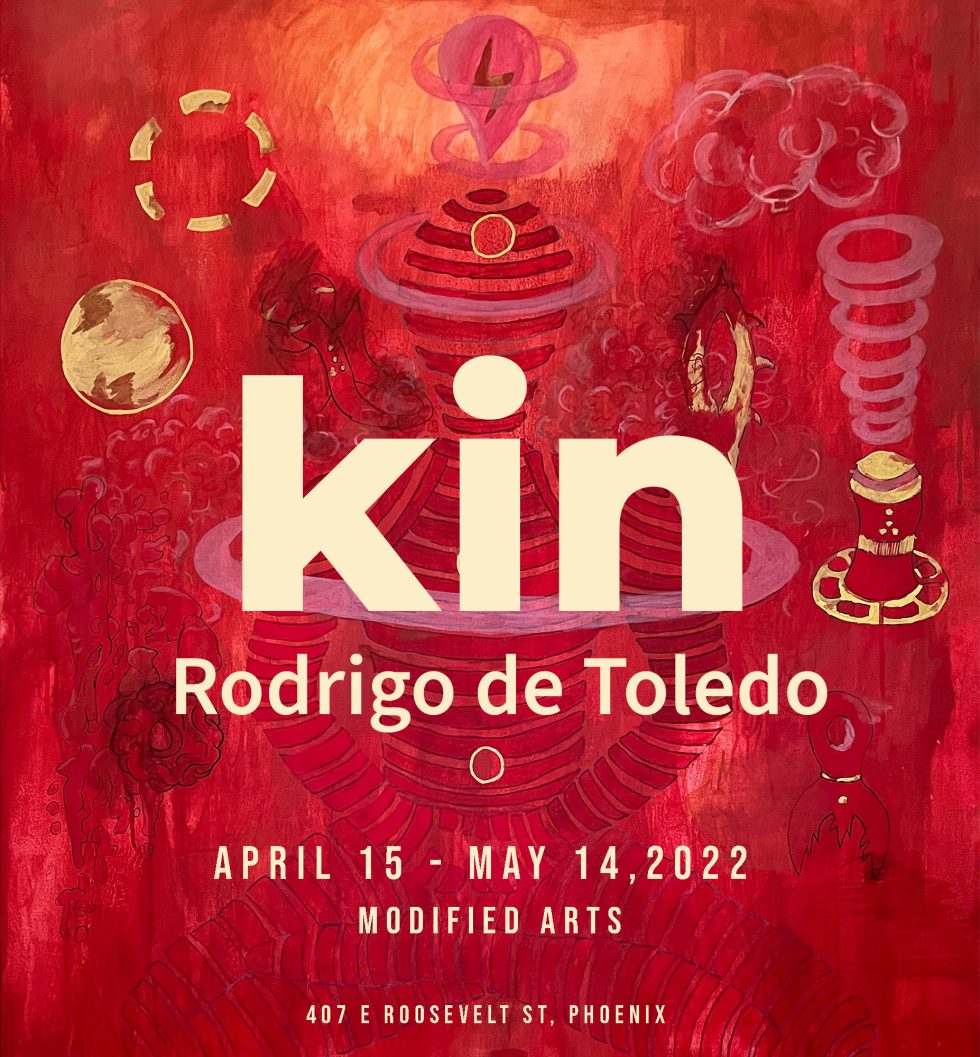 D A T E
April 15 – May 14, 2022
Opening Reception: April 15, 2022. 6-9PM
Closing Reception: May 6, 2022. 6-9PM
Join us, Thursday April 21st from 6:30-8pm, for a virtual artist talk with Rodrigo de Toledo to hear about his new body of work Kin.
Register: here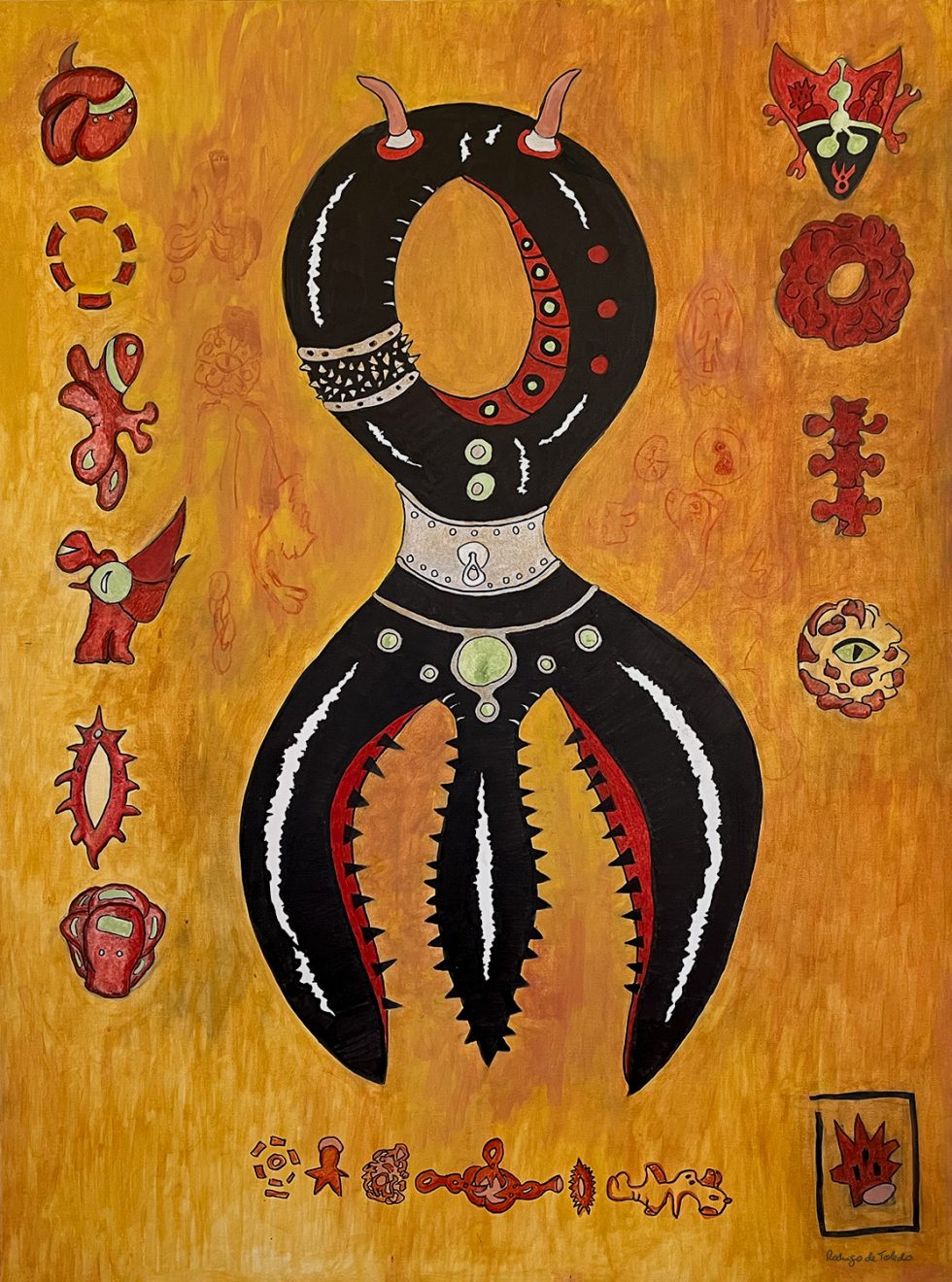 Modified Arts is excited to present Kin, a Solo Exhibition featuring Rodrigo de Toledo.

Kin is a new series of paintings, created especially for the solo exhibition at Modified Arts Gallery, by Flagstaff-based Brazilian visual artist Rodrigo de Toledo. The work celebrates fantastical ancestors, as portraits transported from the walls of an otherworldly and ageless temple.

In this exhibition, Rodrigo rediscovers the fluidity and energy of the paintings from his career's beginnings in Rio de Janeiro. Now, playfulness finds a subject on large portraits of creatures and characters from a mythological realm. On a distressed and aged canvas surface, Rodrigo disrupts his pre-established vocabulary and the visual language of comics and cartoons with abstract graphisms and graffiti-like interventions. Rodrigo is back to Phoenix, following a large solo exhibition at Mesa Contemporary Arts Museum, during the summer of 2021.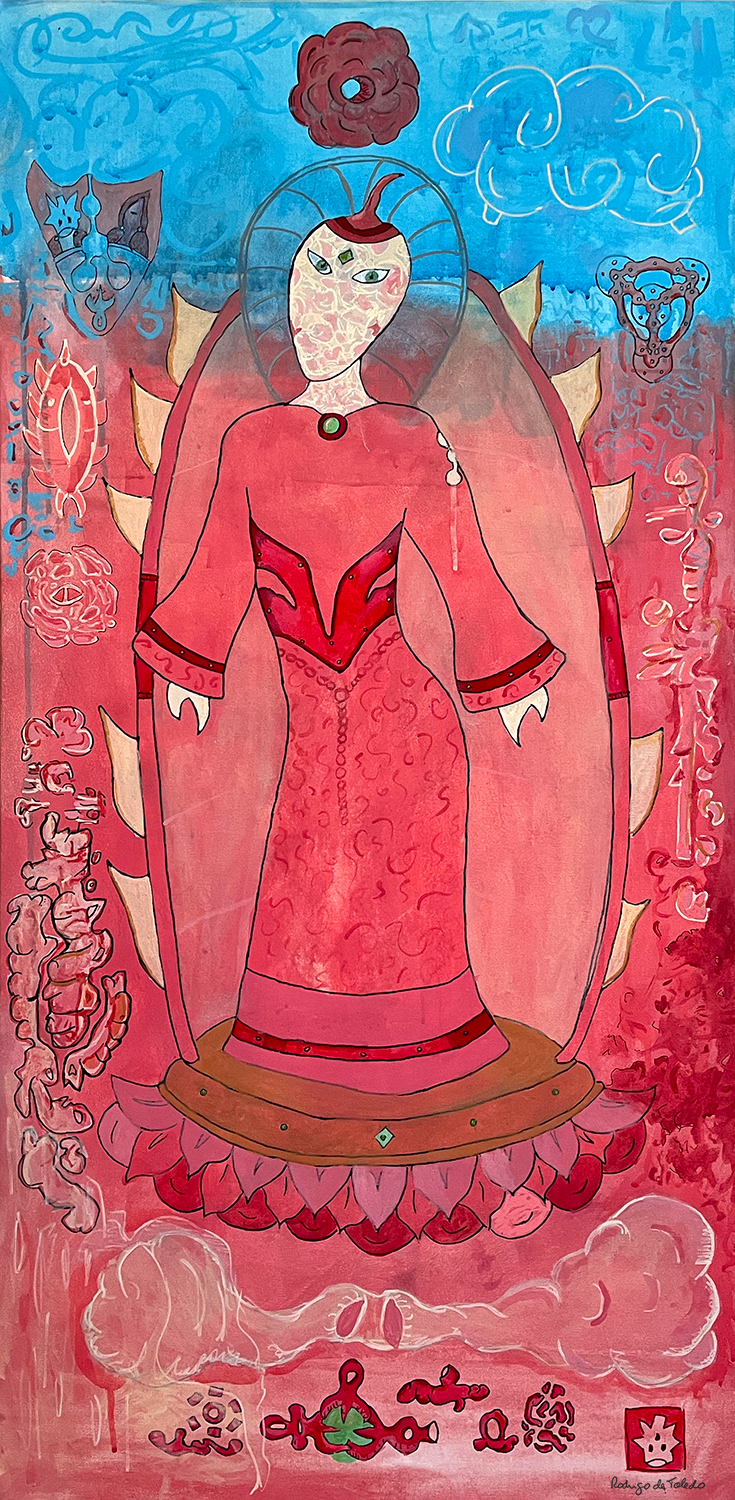 Born in Rio de Janeiro, Rodrigo de Toledo is a Brazilian-American visual artist, graphic designer, and animation Professor at Northern Arizona University.

Since 1990 his whimsical, imaginary worlds have appeared in publications, museum exhibitions, galleries, art festivals, and have been featured in various media coverage around the globe (USA, Argentina, Brazil, Netherlands, Australia, France, Italy, Japan, Germany, Spain, among others). Rodrigo's work has been awarded by Forbes, NASA, Coca-Cola, and Northern Arizona University, and the official selection of several animation and video festivals.

Inspired by ancient mystical icons, mythological archetypes, and cartoons, de Toledo's work explores questions on identity and spirituality, as well the media's effect on personal memory and fantasy. In the last decade, he has focused on the design of a personal mythology and its visual iconography—an inner inquiry that he describes as psycho-archaeology. He employs a surreal pop visual style in a cross-media blending of painting, digital imaging, graphic novels, interactivity, installation, and animation.


www.neurondiva.com | IG: @neurondiva | [email protected]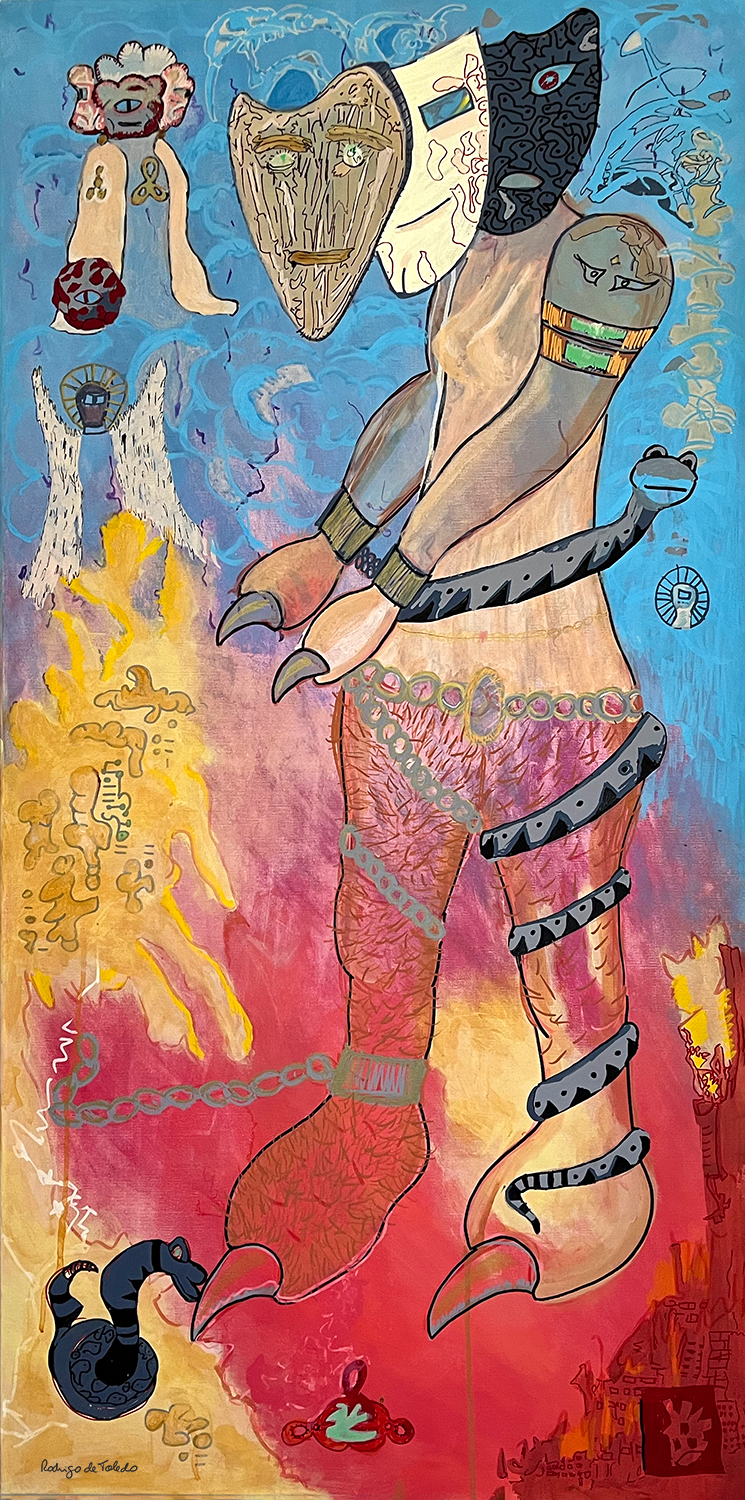 Artist Statement:
I make symbols, and I connect them. I started doing this spontaneously, as a form of understanding myself and the world. At the time, I was not aware that it was the beginning of a potentially lifelong art project, which I later came to view as a spiritual process. This practice became increasingly structured when I started to put together what I call a personal mythology that contains interconnected archetypes and some of their background stories. In 2010, I formalized this concept as a series of five paintings entitled Inner Mythological Realms, which were published in my illustrated fiction Chronicles of Entanglement—The Broken Mandala Whispers. From 2016 to 2021 the mythology was expanded with a new body of work, entitled The Myth of the Incomplete Self.

I research ancient mythologies and their icons, allowing myself to be influenced by instinctive attraction to imagery—loosely navigating what psychologist Carl Jung called the collective unconscious. It takes me a while to create and collect a set of symbols, characters, and environments, which I draw with a surrealist stream-of-consciousness spontaneity. I then refine their appearance, and make them fit visually, coherently, and conceptually into the existing mythology and iconography. This practice could be described as a psycho-archeological search, with a resulting fictional world design. More recently, I have been rediscovering the fluidity, energy, and playfulness of the paintings from my career's beginnings in Rio de Janeiro. Which lead me to a painting approach that explores the distress, aging, and disruption of my pre-established visual vocabulary.

My medium exploration focuses on adapting and showing this mythology through as many media forms as possible, such as graphic novels, paintings, short animated films, digital 3D environments, prints, installations, and performances. A critical part of this exploration is the research of visual language and visual style, which is influenced by the design and techniques found in depictions of ancient religious archetypes, as well as cartoons and comics characters.

As an artist and graphic designer, I am instinctively attracted to visual systems. The application of symbols in my compositions follows an invented visual grammar, a combination of hieroglyphic language and mysterious alchemical schemas. I employ a primitive pop-surreal graphic style, which helps me explore questions of identity and spirituality, as well as the media's effect on personal memory and fantasy. –Rodrigo de Toledo
The Myth of the Incomplete Self catalog >> | Chronicles of Entanglement ebook and book >>
Images in order of appearance:
Ego, Rodrigo de Toledo. Goddess, Rodrigo de Toledo. Masked Martyr, Rodrigo de Toledo
Gallery Hours:
Local First Arizona staff:
Wednesday-Friday, 9 a.m.-4 p.m.
Gallery staff:
First Friday, 6-9 p.m.
Third Friday, 6-9 p.m.
Saturday, 11-3 p.m.
Or by appointment, scheduled by E-mail: [email protected]

Modified Arts
407 E. Roosevelt St.
Phoenix, AZ 85004
www.modifiedarts.org