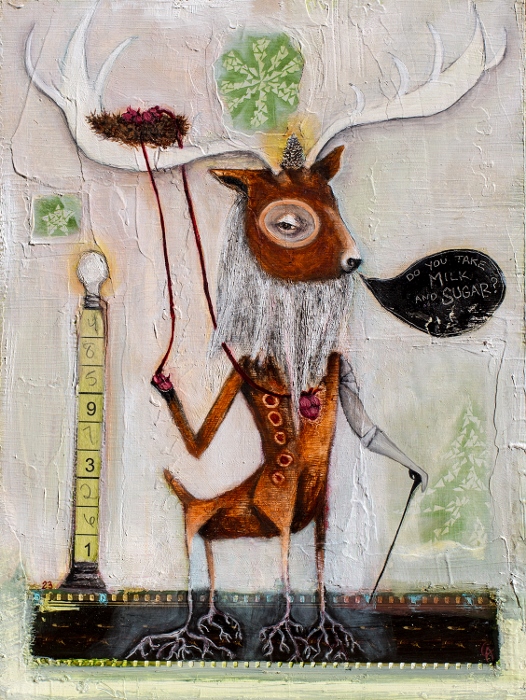 A Little Religion In Your Shopping
A Group Show
Co-Curated by Kimber Lanning and Connor Descheemaker
Opening Reception Third Friday, December 20, 6-9 p.m.
December 20-January 11
Closing reception First Friday, January 3, 6-10 p.m.
Regardless of one's personal beliefs, with the arrival of the holidays we become inundated with religious imagery and history, as well as glowing neon SALE signs and mothers elbowing each other for a position in line to buy the latest gadget. As a result, we see the many ways in which people respond to (or don't respond to) this religious presence—in their own lives, and in the lives of the people around them. For some of the artists selected for this exhibit, the religious presence is more overt. But for others, the spiritualism (or reaction to it) is more subtle or nuanced. Taken as a whole though, the exhibition will explore the diverse manner in which creatives express or reflect the influence of religion on themselves and society, specifically during the holiday season.
From the mixed-media sculpture of Rafael Navarro, to the surrealist portraits of Lisa Albinger, to the reverential prints of Brent Bond, the exhibition represents a great variety of local interpretations of the holidays' religious and consumerist conundrum.
The exhibition will feature the work of Scott Allison, Rafael Navarro, James Angel, Lara Plecas, Lisa Albinger, Case Beer, Randal Wilson, Brent Bond, Alexandra Bowers, Randy Slack, and Gennaro Garcia.
Gallery Hours:
Local First staff:
Monday-Friday, 9 a.m.-5 p.m.
Gallery staff:
First Friday, 6-10 p.m.
Third Friday, 6-9 p.m.
Saturday, 12-4 p.m.
By appointment, scheduled by E-mail.
Modified Arts
407 E. Roosevelt St.
Phoenix, AZ 85004
www.modifiedarts.org