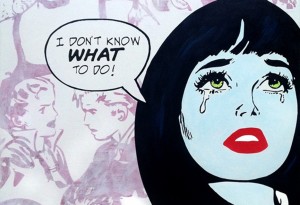 Mixed Messages brings together multimedia work by artist couple Kristin Bauer and Emmett Potter.  Both artists work in various painting and drawing media, with two dimensional and three dimensional work and incorporate stenciling, text and a myriad of genres, as well as appropriate pop and cultural imagery into their work.
This exhibition features all new work from both artists, who have not shown together since their last show at Squeeze Gallery, a pop-up gallery they owned and operated in Scottsdale.
Kristin Bauer's new work explores opposites in content and formal execution, and conceptually combines references to iconic artistic and literary works and movements ranging from ancient history to contemporary pop culture.  She combines these references in brightly colored irregular shaped wall and installation pieces that are both flat and sculptural at the same time.  How these pieces come together and move in space parallels Bauer's inquisition into how certain themes in visual and written history circulate into one another.  Does time and our understanding of artistic and cultural human evolution move forward in a linear aspect, do we circle back in on ourselves, or does our cultural movement through time form quizzical lines through which new shapes and form emerge when scattered points of the past and present combine?  As we revisit themes and myths culturally in the representation of characters and imagery, what kind of hybrid mythologies emerge?
Emmett Potter's new work appropriates nostalgic 20th century and contemporary pop and comic book imagery and iconography.  He explores and addresses themes of mass marketing and consumeristic culture, and the simultaneous humor, love, blindness and horror inherent.   Potter will be exhibiting new works on paper, mixed media paintings and found object sculptures that reconfigure familiar aesthetics and imagery in new formats.