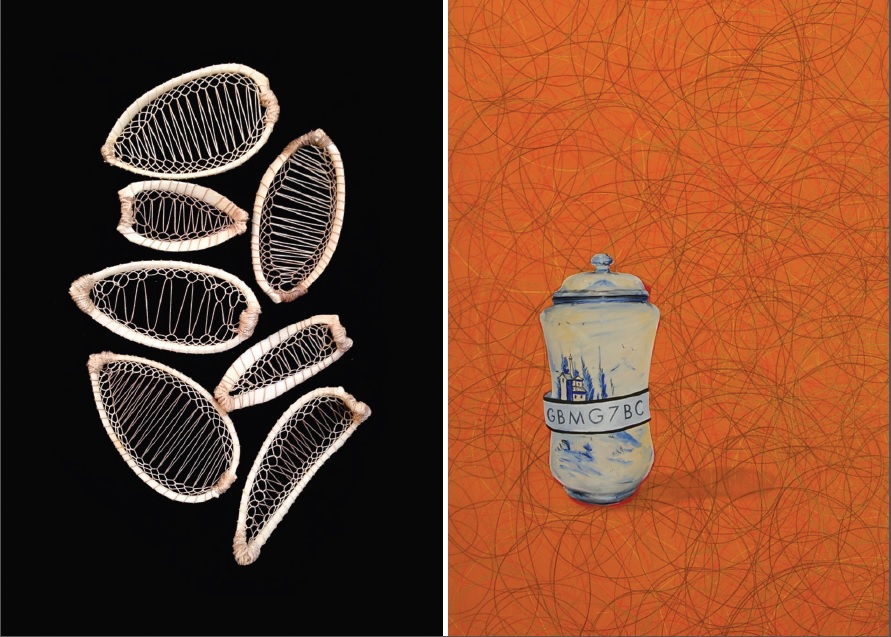 Left: Denise Yaghmourian, Fragile Life (detail), 2015
Right: Eddie Shea, Vasetag (detail), 2015
Modified Arts & phICA present:
"Krivanek"
Eddie Shea
+
"Fragile Life"
Denise Yaghmourian
May 15 – June 13, 2015

Opening reception: Third Friday, May 15, 6-9pm
Closing reception: First Friday, June 5, 6-10pm
In collaboration with the artist-centric nonprofit Phoenix Institute of Contemporary Art, Modified Arts is proud to present two concurrent solo exhibitions from veteran Phoenix artists: Eddie Shea's "Krivanek" and Denise Yaghmourian's "Fragile Life."
Eddie Shea's latest body of work continues the artist's longstanding work in composing large, evocative painted works. The pieces actively draw associations for the viewer, often featuring prominently familiar objects such as childhood toys, placing them front-and-center, then surrounding them with more abstract musings. Drawing upon his long-documented personal dreams, Shea places immaculately-rendered somethings as the spotlights, but rather than filling out the pieces with immediate backgrounds, he leaves the remainder out of focus, continuing that dreamlike state. By leaving the rest of the compositions on an even background playing-field, the artist leaves the viewer to produce their own memories and associations with the objects so clearly presented.
Denise Yaghmourian draws together items from disparate sources to produce finely-tuned works, literally, tied into one. The artist's latest sculptural works unite such materials as animal bones, leaves, feathers, and cable ties with thin threads, together creating intimate, immaculate pieces drawing the viewer inward. The fragility of the work directly mirrors the fragile subject matter to which Yaghmourian has attuned herself. Similarly, the intimacy of the works comes from the intimate relationships the artist has built with the works themselves.
Eddie Shea has been active in the Phoenix arts scene for over 20 years, showing his paintings at such revered spaces as The Icehouse and Ashland Gallery. But just as importantly, Shea has long aided in the growth of the city's art community, serving as a board member at ASU Art Museum for 16 years, member of the revered MARS artist collective for five years, and as a founding member of phICA since 2011.
Denise Yaghmourian is currently represented by Bentley Gallery in Phoenix, and maintains a studio inside the historic Bragg's Pie Factory building along Grand Avenue. The artist has exhibited locally at eye lounge, Studio LoDo, Vision Gallery, and as part of ArtelPHX at the Clarendon Hotel, as well as nationally and internationally at SOHO20 Gallery in New York, Bogena Galerie in St. Paul, France, and Zane Bennett Gallery in Santa Fe, among many others.
Gallery Hours:
Local First Arizona staff:
Monday-Friday, 9 a.m.-5 p.m.
Gallery staff:
First Friday, 6-10 p.m.
Third Friday, 6-9 p.m.
Saturday, 12-4 p.m.
Or by appointment, scheduled by E-mail.
Modified Arts
407 E. Roosevelt St.
Phoenix, AZ 85004
www.modifiedarts.org