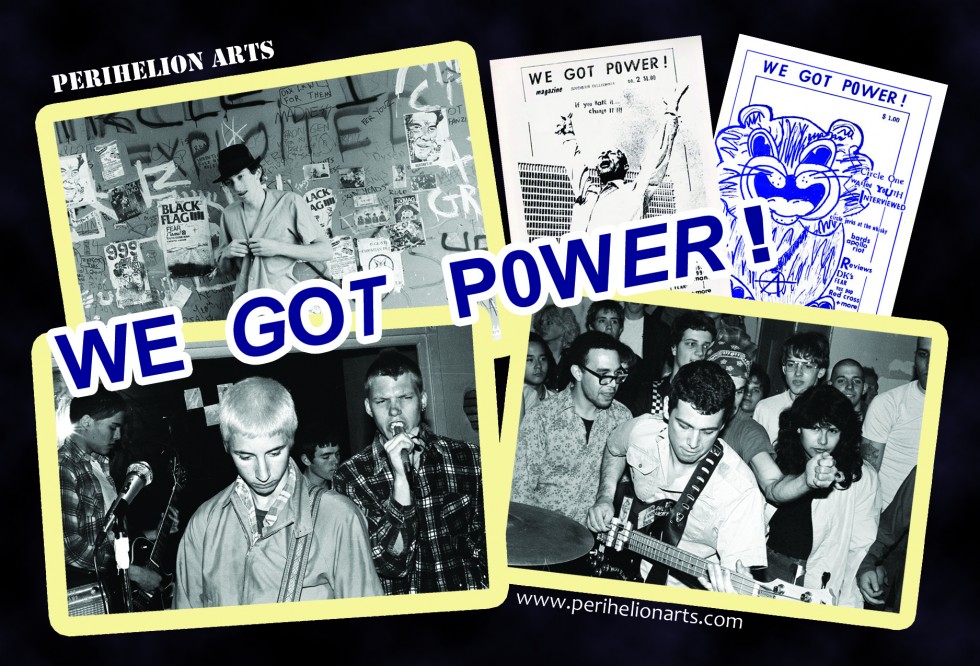 WE GOT POWER!
A photography exhibition based on the book We Got Power! – Hardcore Punk Scenes from 1980s Southern California by David Markey and Jordan Schwartz
Opening Reception Third Friday, September 20, 6-9pm
September 20-October 12
Closing Reception First Friday, October 4, 6-10pm (Authors/photographers in attendance)
About Dave and Jordan: As teenagers in 1981, David Markey and his best friend Jordan Schwartz founded We Got Power, a fanzine dedicated to the first-generation hardcore punk music community in their native Los Angeles. Their text and cameras captured the early punk spirit of Black Flag, the Minutemen, Social Distortion, Red Cross/Redd Kross, Suicidal Tendencies, the Descendents, White Flag, the Last, the Gun Club, Saccharine Trust, Sin 34, Nip Drivers, Circle One, M.D.C., Big Boys, Youth Brigade, D.R.I., the Butthole Surfers, Firehose, and many others at the height of their precocious punk powers.
In the process, the duo's amazing photographs also captured the dilapidated suburbs, abandoned storefronts, and dereliction of the early Reagan era—a rubble-strewn social apocalypse that demanded a youth uprising! Never before seen except in crude fanzine form, these detailed and richly narrative photos are now collected to present an intimate portrayal of a uniquely fertile creative moment.
"The Black Flag bus rolled out to the San Fernando Valley to hear Minor Threat play. Jordan Schwartz was there, looking like a reporter straight out of some '30s movie, wearing a trench coat and a fedora with press pass in the hatband, holding a camera with an old-style flash reflector. It was a pivotal conceptual moment…"—Chuck Dukowski
Related Events:
Phoenix Got Power, Too!
An exhibit of local music-oriented photos from 80s & 90s
The Trunk Space 1506 NW Grand Ave.
September 20-Oct 12, 2013
We Got Power! Night of ROCK
First Friday, Oct. 4 at 9 p.m. $5 for show/ free before 9 p.m.
The Trunk Space 1506 NW Grand Ave.
Celebrate with a selection of local bands, meet the authors, some artists, and enjoy Grand Ave.
Featuring: Father Figures, Scorpion VS Tarantula, JJCnV, French Girls
My Career as a Jerk
A film by David Markey
Saturday, Oct. 5 at 4 p.m. $8 – Book signing follows!
Filmbar Phoenix 815 N. 2nd St.
Gallery Hours:
Monday-Friday, 9 a.m.-5 p.m.
Saturday, 12-4p.m.
By appointment
Modified Arts
407 E. Roosevelt St.
Phoenix, AZ 85004
www.modifiedarts.org