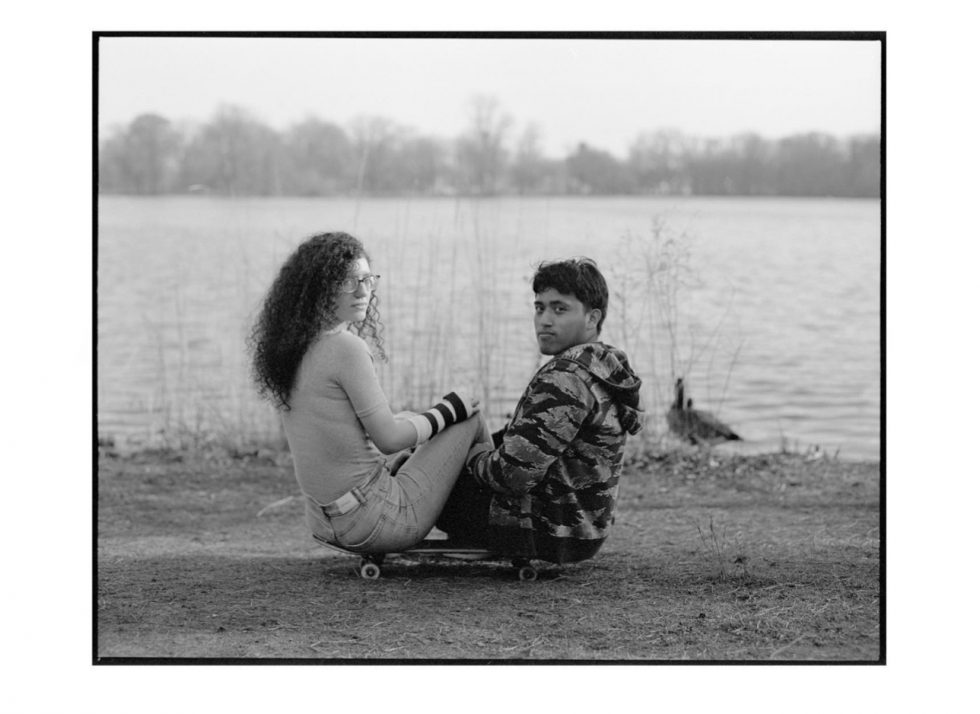 Valerie J. Bower
Dorrell Bradford
Kat Davis
Shaunté Glover
John Gomez
Kent Meister
Patrick Stevens
Opening Reception Nov. 18, 6 to 9 p.m.
Closing Reception Dec. 10, 6 to 9 p.m.
Modified Arts presents new photographic and lens-based imagery in the exhibition "The Space Between Us." In a post-pandemic climate in which social dynamics are being redefined, selected works from local, regional, and national photographers and artists consider interpersonal relationships, both physical and virtual, through portraiture, street photography, photo journals, and alternative imagery.
Curated by Jeff Chabot
Valerie J. Bower
Valerie J. Bower is a photographer & zine-maker born and raised in the Harbor Area of Los Angeles. Her dream-like, monochrome street photography show a softer, feminine point of view on street cultures and everyday life, primarily in Los Angeles. Her work also includes a collection of self-published books, zines, and other printed items such as letter writing and postcard sets. In 2017, Valerie's photography book "Homegirls" was archived into the Thomas J. Watson Library at the Metropolitan Museum of Art in New York.
Dorrell Bradford
Dorrell Bradford, American photographer born and raised in South Phoenix, Arizona, documents quiet moments in which he seeks pause and wonder.
Kat Davis
Kat Davis uses the medium of photography to explore presentation and performance of individual identity and its relation to social and political boundaries. The addition of found photos and objects adds a new dimension by which Davis can bend the arrow of time to create new histories. In her most recent work, Davis assumes the role of historian and archaeologist, as well as creator and imaginaire, by placing images of queer love among modern settings, allowing audiences to experience this love and passion for what it is, separate from the violent and tumultuous history that would otherwise be inseparable. This work allows Davis to find and affirm the histories of which she dreamt.
Shaunté Glover
Shaunté Glover's portraits have been described as feeling like home due to the stillness, warmth, and tenderness of her compositions as described by Phoenix Art Museum. In this recent work, Shaunté shares through her eyes and lens the friends and loved ones that are her home.
John Gomez
Mesa, Arizona-based photographer John Michael Gomez captures ordinary moments, people, and landscapes using traditional emulsion-based film that recalls photographic methods of the past, rendering contemplative images within both urban and rural settings.
Kent Meister
Kent Meister is a Brooklyn-based photographer who makes photos of people. Originally hailing from Tulsa, Oklahoma, Meister's early background in theater and film luckily paved the way to a camera getting in his hands. It turned out to completely change his life. Being intensely curious about people and how we can use photography to reveal layers of personality has led to running a successful portrait photography studio working with an array of commercial, editorial, and corporate clients.
Patrick Stevens
"Equipped with a Leica Q2 Monochrom, the American photographer's artistic, aesthetic and intimate eye captures people in an urban life setting. His images reflect the emotions of a city that is always in movement, pulsing with an energy that is reflected in its people. Patrick Stevens wants his pictures to convey the pleasure he feels while producing his work. " LFI. Gallery Photographers