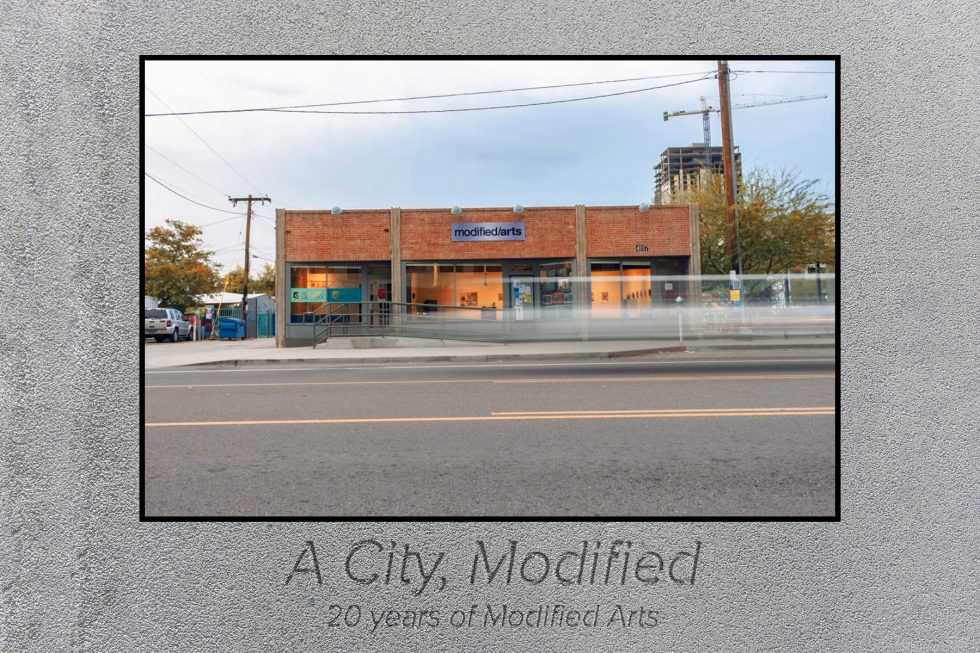 Annie Lopez, Brent Bond, Casebeer, Christine Cassano, David Dauncey, Daniel Funkhouser, James Angel, Jerry Jacobson, Douglas Miles, John Randall Nelson, Laura Spalding Best, Malena Barnhart, Monica Martinez, Rembrandt Quiballo, and Sergio Aguirre
Opening Reception
November 15th, 2019
Closing Reception
December 6th, 2019
A City, Modified, is a cross between historical exhibition and invitational. The show surveys Modified Arts' origin in 1999 to the present day and explores the galleries' history as a music venue and arts space in downtown Phoenix through photographs and historical memorabilia. It is also an invitation to a selection of artists that have had an impact on the space and the arts community in Phoenix over the last two decades.

This exhibition is a celebration of Modified Art's place within the culturally vibrant area that came to be called Roosevelt Row, but it also reflects on the evolutions of the space and the impact gentrification has already had and is still currently having on the arts community here and the surrounding neighborhoods.

Regardless of who has been at the forefront of the space, Modified Arts has always been proud to consistently be one of the most publicly accessible and welcoming places to experience quality, wide ranging, and thought provoking arts culture in the Phoenix community.

Owner and original director/curator Kimber Lanning has strived to make Modified Arts accessible to the public and to the arts communities here and outside of Phoenix. Lanning is not interested in receiving credit or acclaim for the space, nor does she avoid speaking very directly about gentrification and the policies that enable and empower developments that displace communities for short term gain. Through this sometimes ugly transformation of the city around the gallery, its primary goal through 4 different curatorial teams, has remained to foster the arts community and the artists within that community.
Here's to another twenty years!
Gallery Hours:
Local First Arizona staff:
Monday-Friday, 9 a.m.-5 p.m.
Gallery staff:
First Friday, 6-10 p.m.
Third Friday, 6-9 p.m.
Saturday, 12-4 p.m.
Or by appointment, scheduled by E-mail.
Modified Arts
407 E. Roosevelt St.
Phoenix, AZ 85004
www.modifiedarts.org