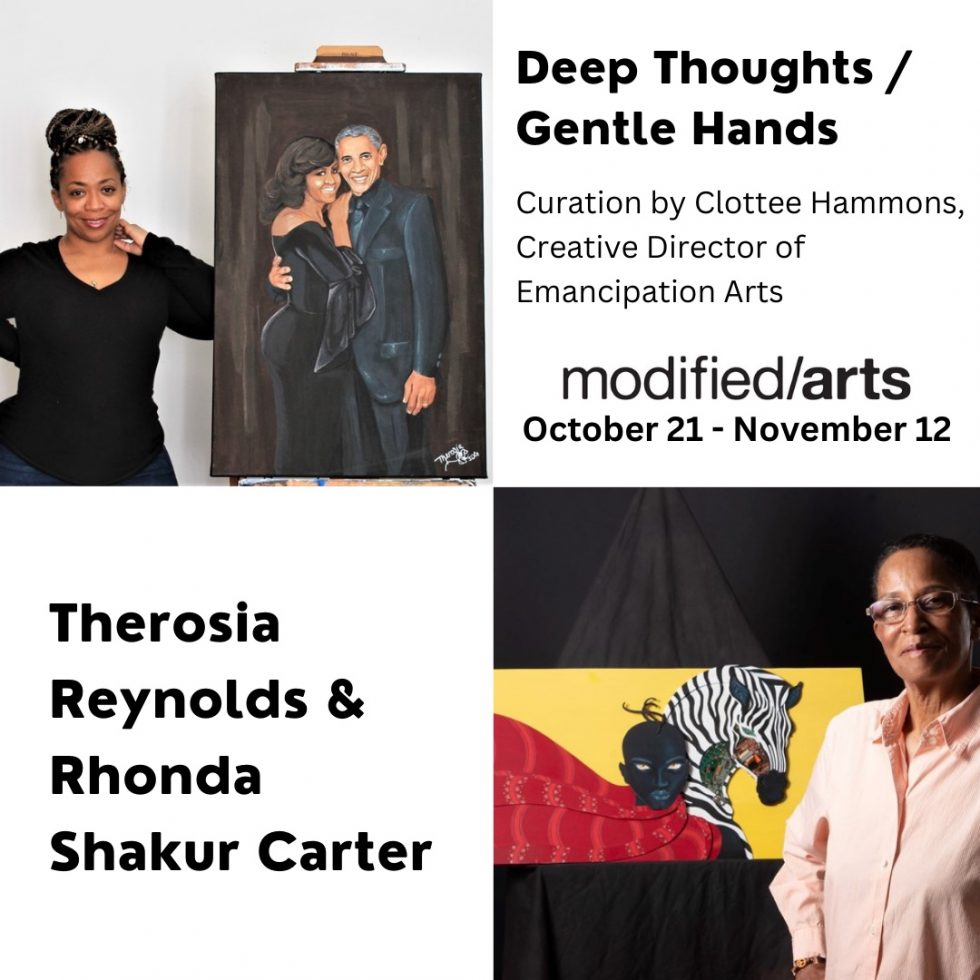 D A T E S
October 21 – November 12, 2022
"Deep Thoughts/Gentle Hands" is the rare local opportunity to experience the work of two resolute Black women artists. Rhonda Shakur Carter and Therosia Reynolds confront an array of topics with the visual commentary unequivocally grounded in love.
Opening Reception: October 21, 2022. 6-9PM
Closing Reception: November 12, 2022. 6-9PM
The prolific artists featured in Deep Thoughts / Gentle Hands use an array of mediums to make visual commentaries that address societal issues; such as ageism, gender, misogyny and race. Both artists express themselves from the perspectives of Black women, in an environment that does not generally welcome their voices. It is with great admiration and gratitude to Modified Arts that I present the works of Rhonda Shakur Carter and Therosia Reynolds. – Clottee Hammons, Emancipation Arts LLC
Artist Rhonda Shakur Carter with Wood, Electronic Parts and Acrylic Assemblage, "Z" photo by Kirby Soderberg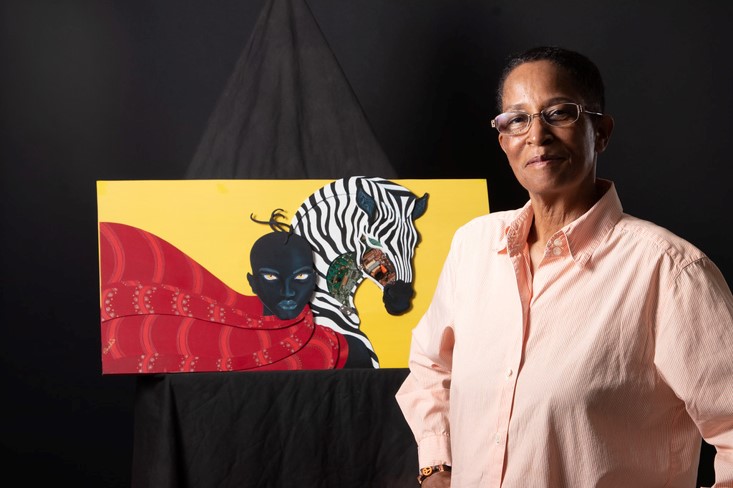 Rhonda Shakur Carter describes herself as a "self-taught artist", however anyone that has seen her work will acknowledge that she has a distinctively unique style. She incorporates cast-off electronic parts, sawed birch wood, buttons, beads and acrylic paint into her visual narration, creating lively and intriguing three-dimensional works.
"My original works are inspired by the places I've been, from the experiences I've received in life, good and bad; the people, my family, real friends and nature. I love creating and designing just about everything!"
Ms. Carter has shown her work at: Afro American Museum, Los Angeles, CA, William Grant Still Museum, Los Angeles CA, Stella Jones Gallery, New Orleans LA, Atlanta Main Library, Atlanta GA, Hairston Library, Stone Mountain, GA, George Carver Museum and Cultural Center, Phoenix AZ, West Valley Arts Museum, Peoria AZ, Herberger Gallery, Phoenix AZ, Shemer Art Center, Phoenix AZ, Peoria Arts Center, Peoria AZ, Recipient of the Diamond Ball Award from West Valley Arts Center, Achievement Award Laveen Arts Center Commissioned by Arizonians for Children
Artist Therosia Reynolds with Acrylic on Canvas, "The Black Love" photo by Latoya Grigler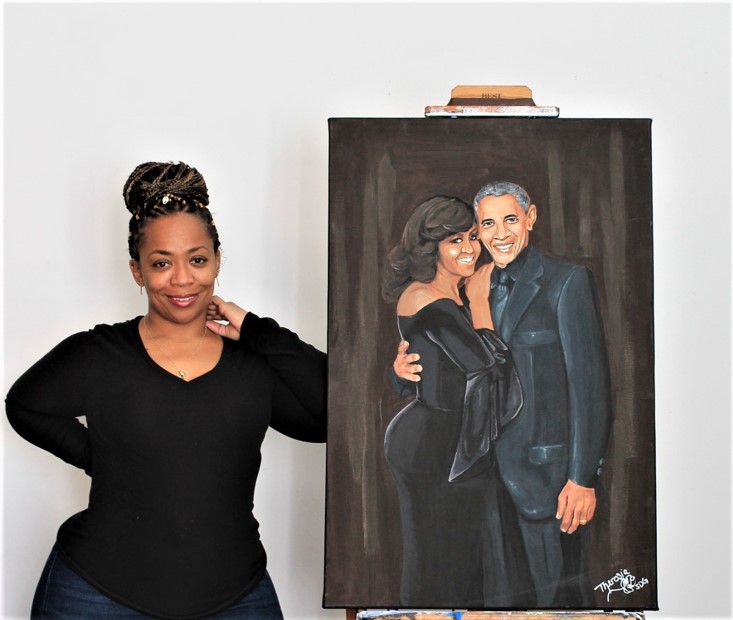 "Multifaceted approaches to art allow for full expression of concepts and reinforcement of messages." Therosia is a visual, spoken word and vocal artist native to South Phoenix, AZ. Creating from deeply held spiritual beliefs; her work centers on illuminating the portion of the Imago Dei that uniquely belongs to and is displayed through Black People.
She describes her upbringing in South Phoenix as growing up between worship and war stories. South Mountain and the many colorful fields that used to grace its base have influenced her bold use of color and its intentional symbolism. It has earned her the "color aggressive" description conveyed by one interviewer.
Specializing in live painting, she was a 2019 City Art Battle Champion. Her accomplishments include a commission for the Valley Metro Light Rail Extension into South Phoenix and being the live painter for the 2019 East Valley NAACP Freedom Fund Awards.
She is also in residency with Scottsdale Center for Performing Arts and is the owner of OutHustle Your Struggle, an inspirational clothing brand based on her own childhood battles overcoming with Intracranial Hypertension. While she was very ill, private art lessons became her escape in dealing with physical ailments that threatened to take her life. From that victory, she seeks to inspire others.