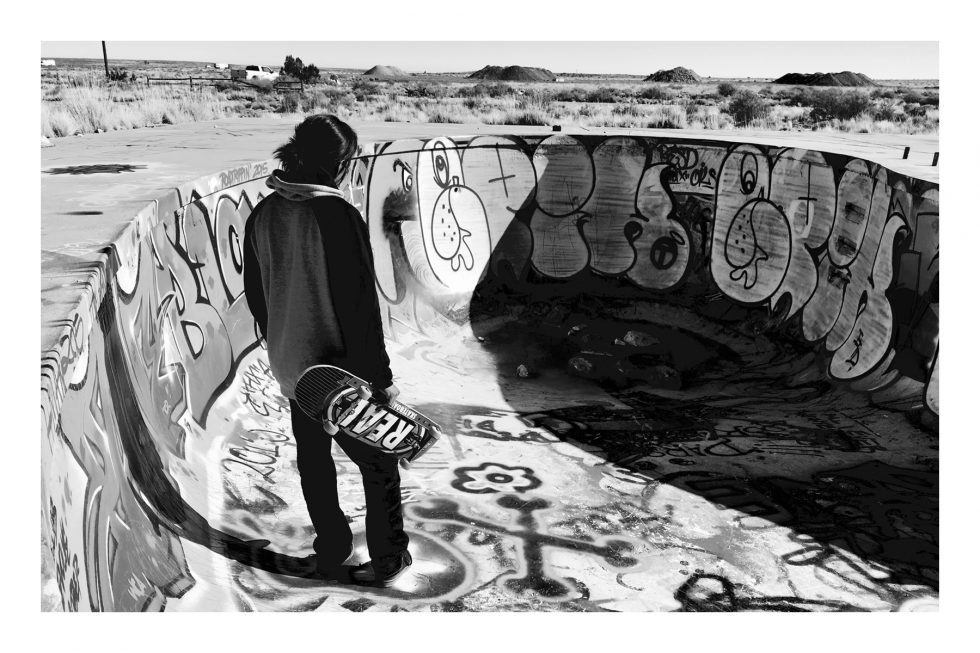 D A T E
March 15 – April 13, 2019
Douglas Miles
Opening Reception
March 15
Closing Reception
April 5
Modified Arts presents the work of artist, designer and filmmaker Douglas Miles in the exhibition "Everyday Sacred." This is the first solo exhibition of photographic work from Miles, who will also create a site-specific work at Modified Arts that will be viewable from outside the gal­lery during the exhibition period.
Curated by Jeff Chabot
Douglas Miles is a Phoenix-born artist, muralist, designer, filmmaker and photographer who lives on the San Carlos Apache Indian Reservation in Arizona.
He recently produced and co-wrote "The Mystery of Now," a short film that recently premiered on National Geographic as an Official Selection in the network's Short Film Showcase.
He is the founder of Apache Skateboards, a skateboard company and sponsors the Apache Skate Team based in San Carlos, Arizona.
His work has been exhibited at the Museum of Northern Arizona, the Santa Cruz Museum of Art and History, the Museum of Contemporary Native Art in Santa Fe, Princeton University, Columbia University. deYoung Museum, Self Help Graphics, Nerman Museum, Eiteljorg Museum, and the Heard Museum.
Press: Visual Arts Source – Lynn Trimble
Gallery Hours:
Local First Arizona staff:
Monday-Friday, 9 a.m.-5 p.m.
Gallery staff:
First Friday, 6-10 p.m.
Third Friday, 6-9 p.m.
Saturday, 12-4 p.m.
Or by appointment, scheduled by E-mail.
Modified Arts
407 E. Roosevelt St.
Phoenix, AZ 85004
www.modifiedarts.org