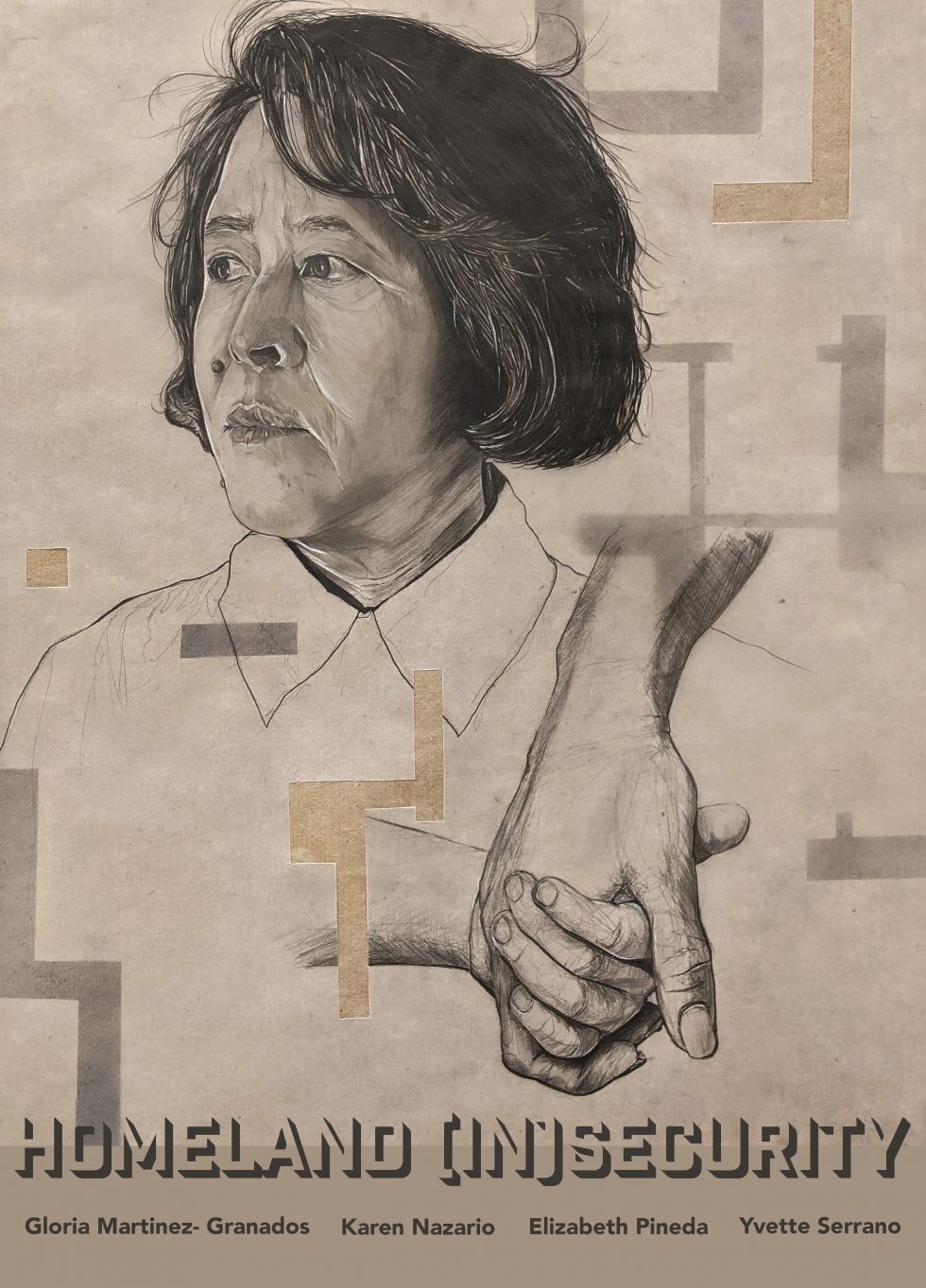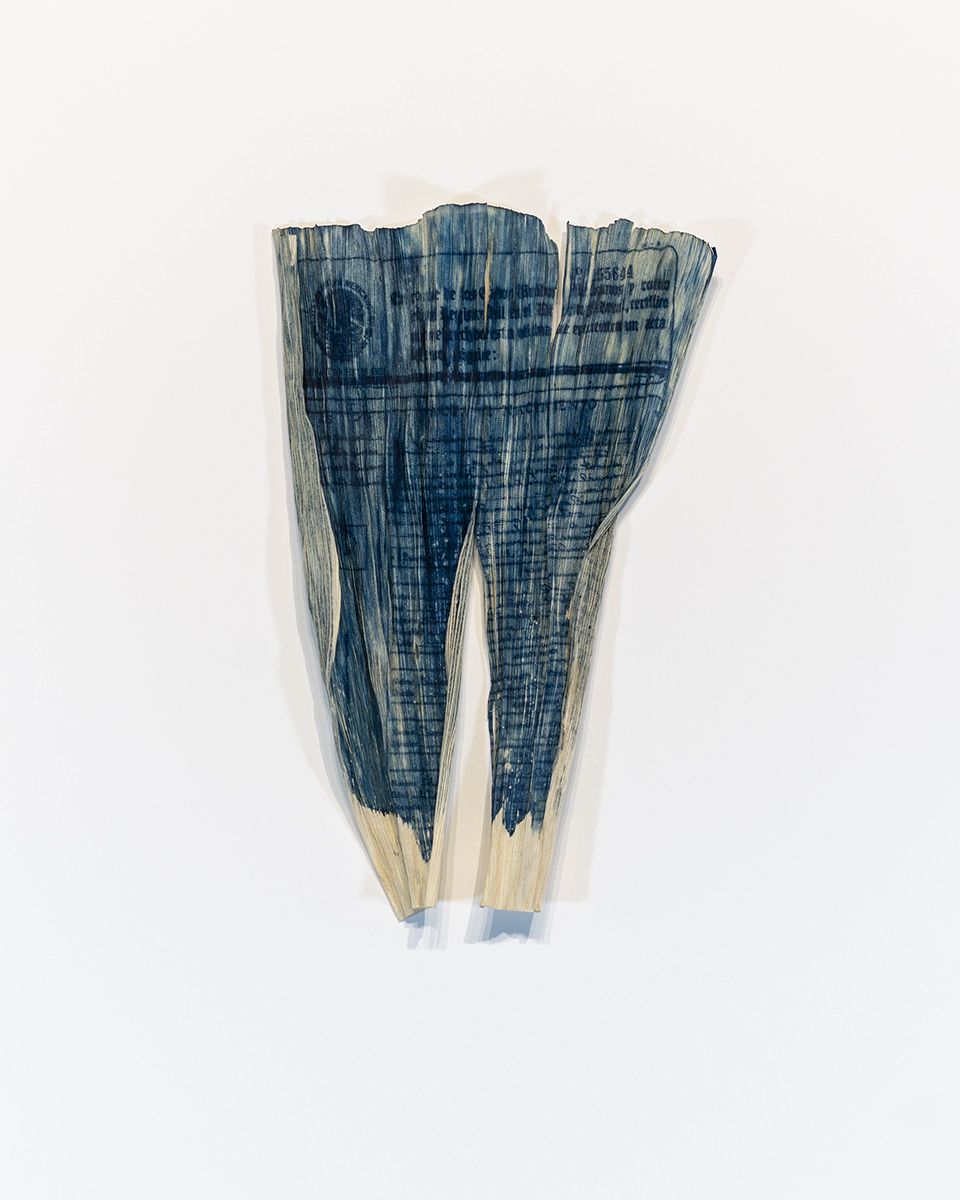 Modified Arts is pleased and excited to announce our first in person exhibition after a long year. Homeland (In)security will open up next Friday, October 15th!"Homeland (In)security" reflects on the tangled relationships between the very personal notions of home and identity to heavy matters such as belonging, displacement, and immigration among socio-political issues. Home may very well serve as one of the most basic social concepts that individuals, families, nations, and regions understand themselves in relation to others. When these concepts are fractured due to relocation, isolation, or lack of documentation, we are often left grappling with a deceptively complex understanding of home and belonging. The global COVID-19 pandemic has left many to face housing insecurity, forced encampment, familia separation, and delayed DACA benefits for undocumented people.

This season's opening exhibition presents a survey of work that portrays the multifaceted ideas behind memories of home and a new sense of reclamation of home. The work of Gloria Martinez, Karen Nazario, Elizabeth Pineda, and Yvette Serrano present us with narratives of reflection, grief, and nostalgia as they work to redefine a collective sense of belonging.

The opening reception for this exhibition will be October 15th from 6PM-9PM and will be on display until November 13th.

For your safety, our staff and community, we highly encourage all to wear masks and practice social distancing measures within the gallery. We look forward to seeing you all very soon!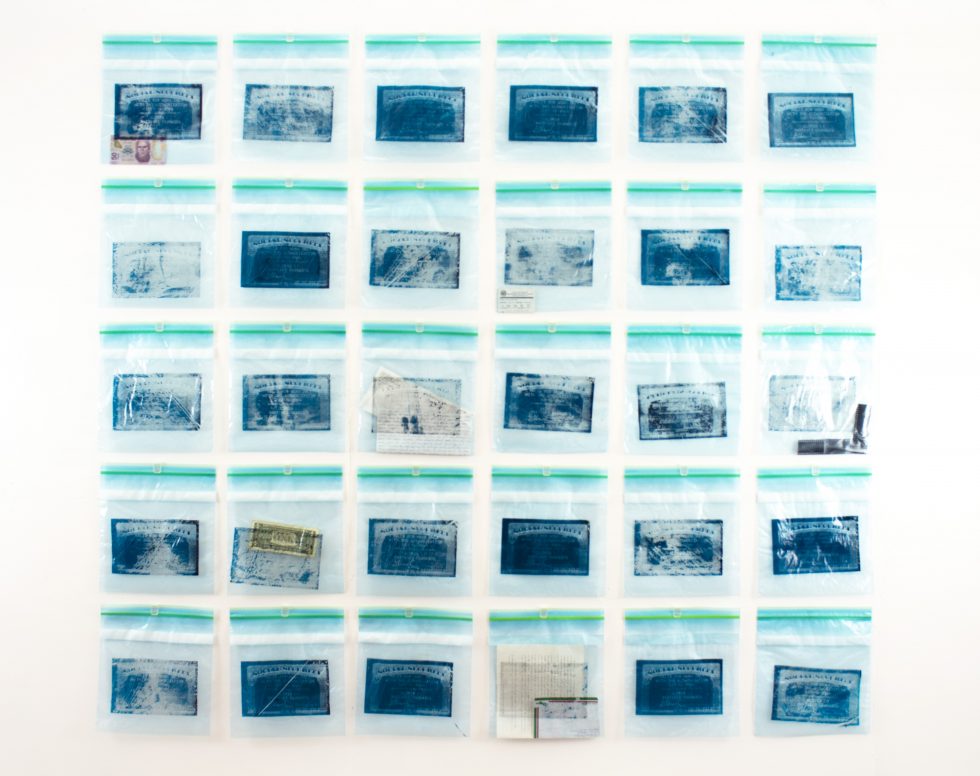 Gloria Martinez-Granados is a Phoenix, Arizona based artist. Born in Guanajuato, Mexico she migrated to the United States of America with her family at 8 years old. Gloria is a mixed media artist creating with indigenous practices, adding a contemporary approach by including printmaking, assemblage, installation and performance to the more traditional arts of beadwork and weaving. Through this process, she develops themes around identity, dreams, place, home and land. This merges with her experience growing up undocumented in the United States and the legal limbo she lives day to day as a DACAmented person. In 2019 she earned a Bachelor of Fine Arts degree in Printmaking from Arizona State University's Herberger Institute for Design and the Arts. She has been invited as a teaching artist at The Phoenix Art Museum and CALA Alliance. Gloria has exhibited work nationally, currently as part of an online exhibition, Contingent Perimeters, with University of Michigan Museum of Art.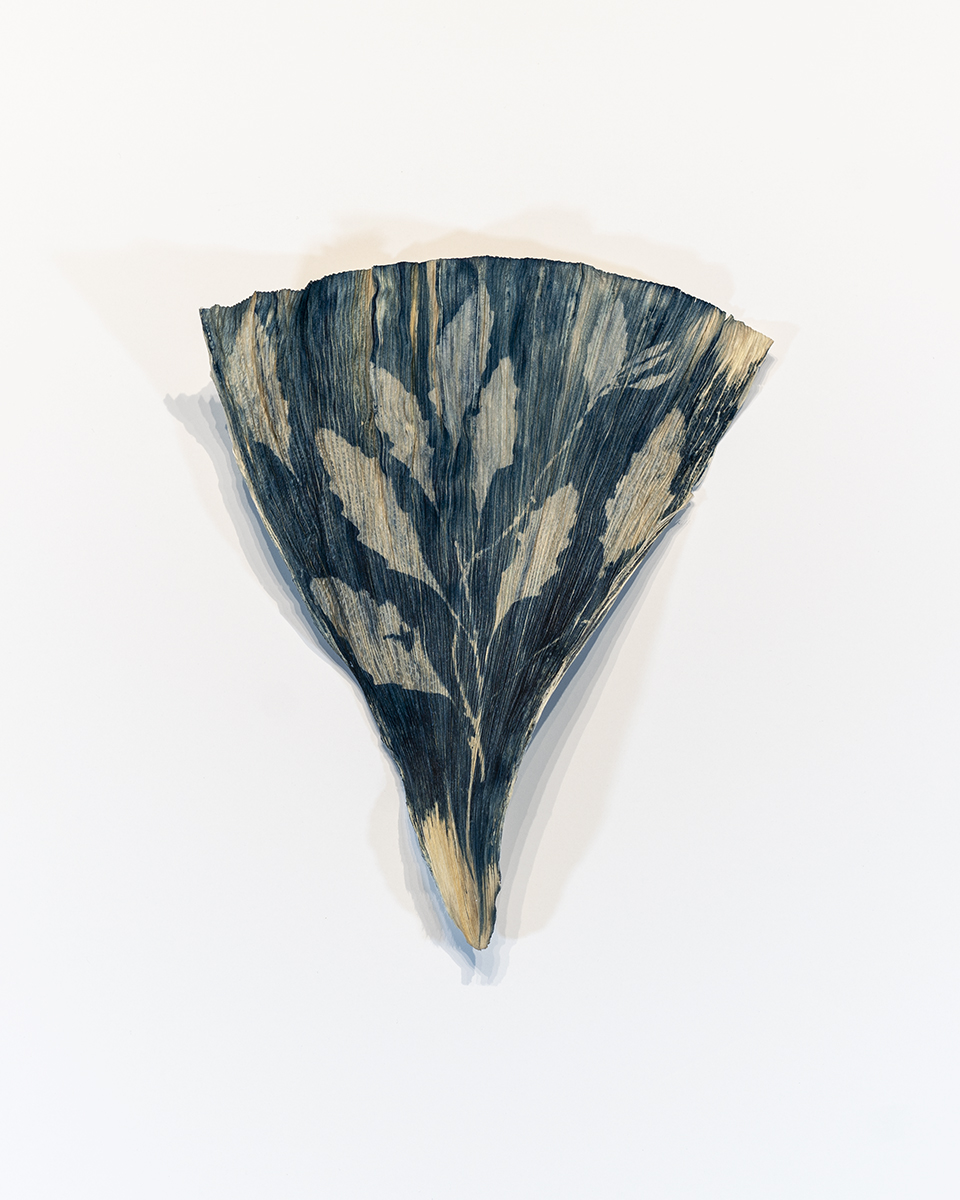 Originally from Mexico City, Elizabeth Z. Pineda is a photographer and an emerging artist. Using traditional photographic processes her work resides at the intersection of time and memory. Branching off from her own story, she speaks visually of community and touches on barriers of language, culture, and society. Elizabeth is an MFA candidate in Photography at Arizona State University.
"These works are from a series of copperplate photogravures and cyanotypes on corn husks I am currently working on. The photogravures are from images made in the Arizona desert while contemplating migrant deaths occurring in the terrain. I found the skulls in various states of decay. I returned over and over again to photograph them. They serve as a metaphor for the loss of human life I contemplate when out in the landscape while attempting to understand migrants' journeys, their pursuit, and venture into such unknown, foreign territory.

The corn husks began after some of my documents were deemed invalid. Emotions engulfed me, feeling stripped of my identity and self-worth, the experience something like erasure. I began to question the idea of "papers" and the sheer value they hold. At the same time, thoughts of home, the home I left behind as a child, filled me, and I decided to re-create my documents and a sense of the childhood home to which I never returned. When one thinks of home, food and cooking are intrinsic elements that trigger memory and place. Epazotl y Tuna (Epazote and Prickly Pear) represent memory, my mother's cooking, encapsulating home in a humble corn husk." -Elizabeth Pineda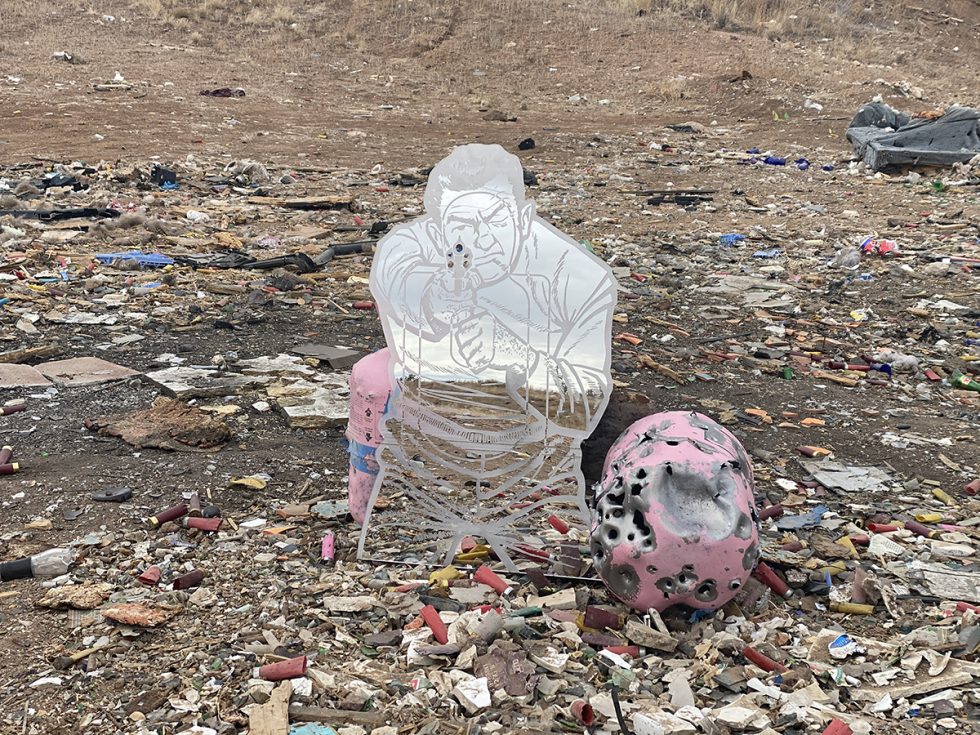 Yvette Serrano is a multidisciplinary artist from Santa Fe, NM. Serrano's work draws references from the Southwest and speaks on the systems of power, policies, and violence that continues to displace people and challenge our relationship to land and memory. She obtained her BFA in Communication Design from the Santa Fe University of Art and Design and is currently an MFA candidate at Arizona State University.
ICE THUGS is based on the official shooting target for the Department of Homeland Security. Here, it is reimagined into an object for self reflection for ICE agents and as a symbol of protest. The depiction has come to be known as "Thug," bringing into question racial profiling tactics used by ICE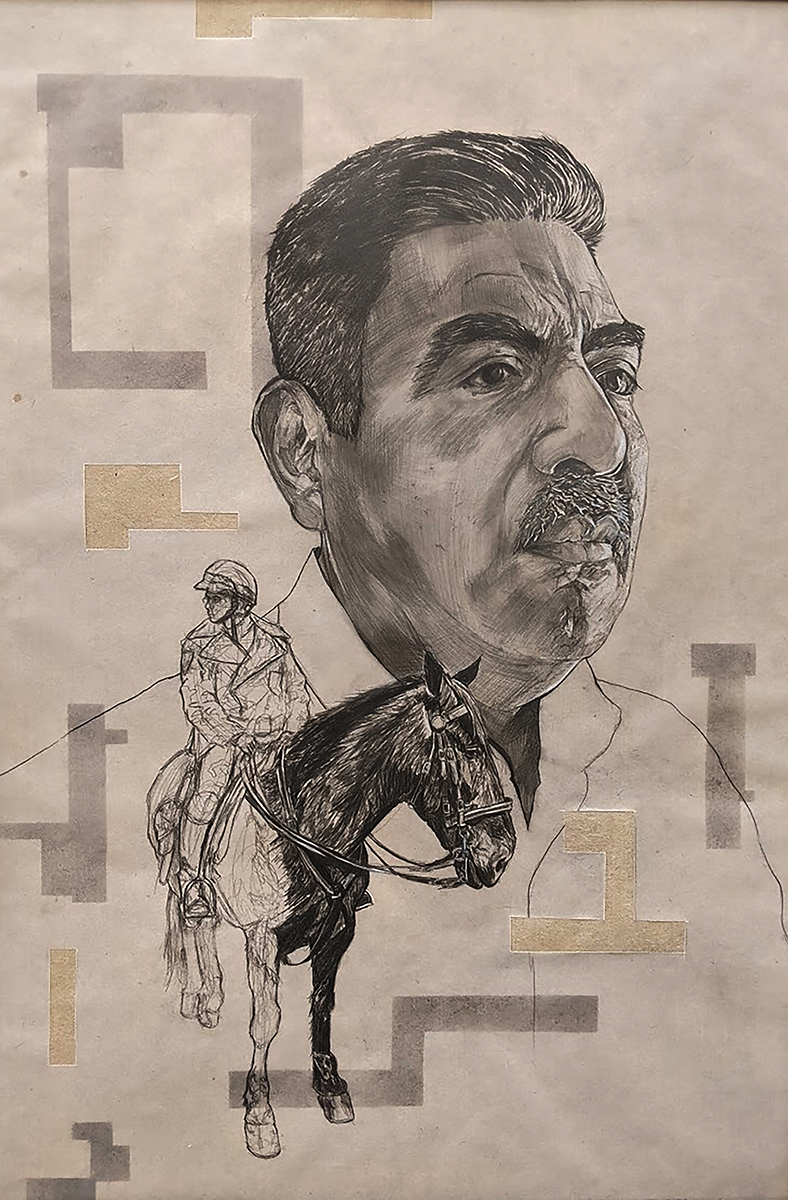 Karen Nazario Moranchel was born in Phoenix, Arizona in 1998. Having grown up to witnessing her undocumented family endeavors, her interest in sharing their story cultivated. Throughout her life, Karen has been intrigued by the power of images and how they represent society through a means other than words. Her drawing skills cultivated during her late teenage years and further developed when she opted to pursue a bachelor's degree in Printmaking.Nazario further delved into her printmaking practice which involves hardships and injustices faced by immigrants. She has come to cherish the importance of community and the power of voice through various forms of print. Printmaking amazes her given how it can expand the imagination and mind to a vast audience. Karen feels that art can transcend all barriers, allowing one to feel, reminding they are human and finding levels of empathy within one's self.
Gallery Hours:
Local First Arizona staff:
Monday-Friday, 9 a.m.-5 p.m.
Gallery staff:
First Friday, 6-10 p.m.
Third Friday, 6-9 p.m.
Saturday, 12-4 p.m.
Or by appointment, scheduled by E-mail.

Modified Arts
407 E. Roosevelt St.
Phoenix, AZ 85004
www.modifiedarts.org